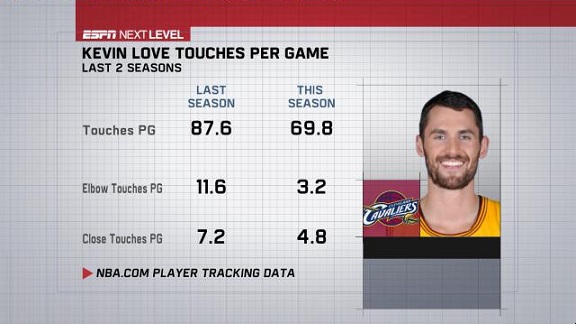 Last season Kevin Love, then with the Minnesota Timberwolves, ranked eighth in the NBA with nearly 88 touches per game. This season he's down to 35th, averaging 70 touches per game. However, that was to be expected after joining forces in Cleveland with LeBron James and Kyrie Irving.
Love has a player efficiency rating of 28.1 in the first quarter this season, the best mark in the league among the 112 players who have played at least 250 first-quarter minutes. That number, however, drops all the way to 15.1 in the second through fourth quarters, only slightly above the league average of 15.0.
What has been alarming is Love's lack of involvement in the offense as the game goes on. So what can the Cavaliers do to get him going?
GET HIM THE BALL WHERE HE LIKES IT
Last season, Love averaged nearly 12 touches per game on the elbows (second in the NBA), which gave him room to operate and either initiate a post-up, shoot a jumper, drive or make a play for his teammates. This season, he's averaging just three elbow touches per game.
INCREASE HIS ENERGY AND HUSTLE ON THE COURT
Kevin Love in the paint
With Love getting so many fewer touches at the elbow and down low, he has a career-low offensive rebounding percentage this season at 6.9 percent; he has never been below 8 percent in his career. That results in fewer putbacks per game. Nearly 11 percent of Love's points came from putbacks last season and it's down to 8 percent this season.
That could explain why he's averaging a career-low 5.3 points per game in the paint this season.
Getting him involved early and often in the offense could increase his energy levels on the court.
SPEED UP THE PACE
The best way to have fun on the court is to get layups and transition baskets. With Love on the court, the Wolves had the fastest pace in the NBA last season, averaging 102 possessions per game. Among big men, Love was second only to Blake Griffin in points in transition last season.
This season, the Cavaliers are averaging just 94.5 possessions per game with him on the court, which would rank 24th in the NBA. Love ranks seventh among all big men in transition points.