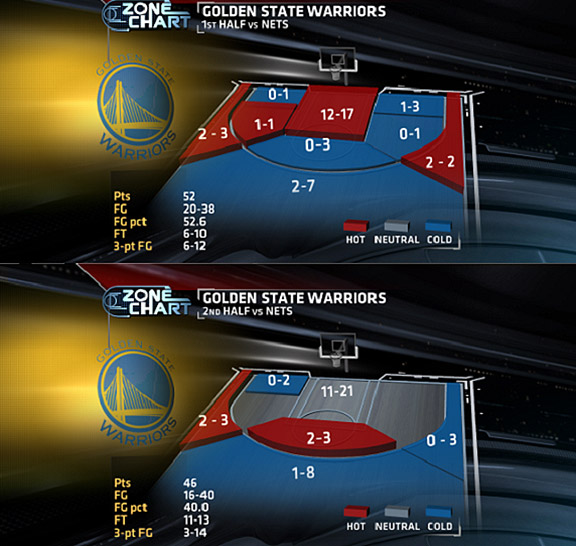 The Warriors did not maintain their hot shooting in the second half.What were the statistical keys to the Brooklyn Nets snapping the Golden State Warriors' 10-game winning streak on Wednesday night?
Nets win battle of the benches
The Nets' bench outscored the Warriors bench, 36-17. In particular, the Nets benefited from Andray Blatche's 17 points and Mirza Teletovic's eight points and 10 rebounds. The Nets outscored the Warriors by 23 points in Teletovic's 29 minutes. They were outscored by 19 points in the 19 minutes when he was on the bench.
Thwarting Klay Thompson and Andre Iguodala
Stephen Curry had 34 points, but his partner in shooting wizardry, Klay Thompson, was 5-for-15 from the field (his second straight game shooting 33 percent)
The Warriors made six of their first seven 3-pointers, but made only three of their last 19.
Andre Iguodala was held to one basket. It was the first time Iguodala was held to one hoop since the Warriors' last loss —- against the Los Angeles Lakers on December 21.
The Warriors outscored opponents by 23 points per 100 possessions with Iguodala on the floor during the winning streak, but outscored the Nets by one in his 30 minutes Wednesday. In fact, entering the game, Iguodala had the best net efficiency of any player averaging at least 15 minutes per game this season (+17.5).
The Warriors fell to 19-7 with Iguodala playing. They are 5-7 when he doesn't play.
Getting to the line
The Nets made 29 of 35 free throws, including nine in a row in the final 72 seconds. The 29 free throws made were their second-most in any game this season.
Streaks done
The Warriors' 10-game winning streak came to an end, one game shy of the club record set in the 1971-72 season.
The Elias Sports Bureau noted that if the Warriors won, they would have been the first team to go undefeated on a road trip of seven games or longer. This was the 270th such road trip in NBA history.