Losers of seven games in a row entering yesterday, the Brewers desperately needed a win against the first-place Reds. Holding a 4-2 lead entering the bottom of the ninth, the Brewers weren't aware that the unceremonious end to Trevor Hoffman's storied career was on the horizon. While the 42-year-old closer has been bad this season, suffice it to say he hasn't had worse stuff this season than he had yesterday. Thanks to TexasLeaguers.com, we have this sad-looking graph that shows neither Hoffman's fastball nor legendary changeup had any horizontal movement against Cincinnati: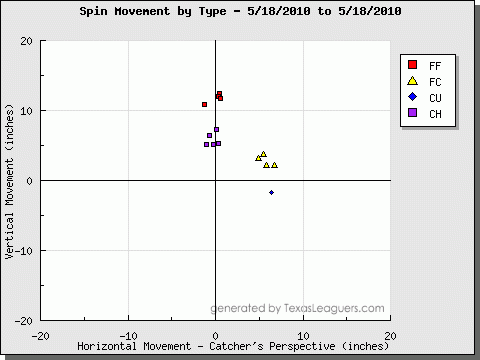 Scott Rolen's game-tying home run came on one of those straight change-ups, leading to Hoffman's third loss and fifth blown save of the season. Even if last night is viewed as an anomaly, there are plenty of indicators that Hoffman is pitching at an all-time low level. Not since 2002 -- when FanGraphs started tracking pitch stats -- has the right-hander's changeup been below-average relative to the rest of the league. This season, it has been one of the least valuable 20 changeups in all of baseball, worth 2.2 runs below average. (It was 8.3 runs above average in 2009.) His fastball, which has always been a weapon merely as a counter to the change, has taken a predictable beating as a result. The pitch has a tiny 2.1 whiff rate (versus a league average of around 8 percent), and batters are having no problem hitting it hard and into the air.
Always a fly-ball pitcher, Hoffman is allowing elevation at never-before-seen heights in 2010. Since 2002, Hoffman's ground-ball percentage has been between 30 and 40 percent every season. This year, through a little more than 50 balls in play, he's allowed just seven ground balls, for a minute 13.7 ground-ball rate. Considering that 20 percent of the fly balls he's allowed have left the stadium, we're seeing a bad combination of epic proportions. Hoffman's 13.15 ERA is probably higher than it should be, but considering a career-high walk rate, his fielding independent pitching (FIP) suggests it should still be 10.48.
This season, the Brewers have trusted their worst pitcher with one of their most important roles. It is strange to think about Hoffman in any inning besides the ninth, but if the right-hander understandably doesn't want to retire on this note, then he can't be trusted with anything besides mopping up until some semblance of good stuff comes back.
According to CoolStandings.com, the Brewers now have a 6.1 percent chance of making the playoffs as they stand eight games back of the Reds. It's likely that those 6.1 percent of simulations in which the Brewers made the comeback were not with Hoffman pitching high leverage innings.
Bryan Smith is a writer for FanGraphs.