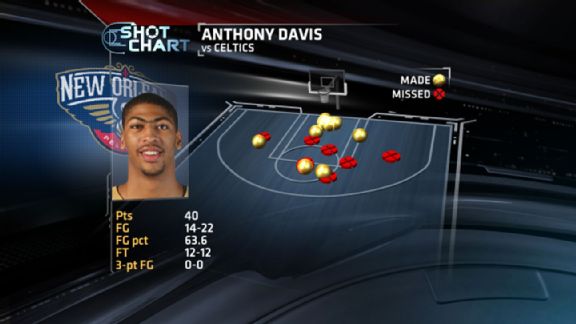 Anthony Davis had a tremendous game on Sunday.Anthony Davis had one of the NBA's biggest games this season in the New Orleans Pelicans' win over the Boston Celtics.
He was the first player to have a 40-point, 20-rebound game since Dwight Howard had one for the Orlando Magic against the Golden State Warriors on January 12, 2012.
DavisDavis was 12 for 12 from the free throw line. He's the first player to score 40 points and be perfect from the free throw line (with at least 10 attempts) since Larry Bird in November 1987.
Davis was the first to have a 40-20 game against the Celtics since Shaquille O'Neal on March 21, 2003.
The Elias Sports Bureau notes that at age 21, Davis is the fourth-youngest player to have a 40-20 game, trailing only 20-year-olds John Drew (who had two in 1974) and O'Neal, who had one in 1993.
Davis has set career highs in scoring in each of his last two games (he had 36 points on Friday against the Portland Trail Blazers). He's averaging 32.3 points per game in his last six games.
How has Davis gotten on this hot streak? Sunday it was about his work in the paint, where he made 11 of 13 shots. During this six-game run, he's shooting 67 percent in the paint (he was making 58 percent prior to this stretch).