The Lakers take on the Heat in the Staples Center at 5 p.m. ET on ABC.
According to the Elias Sports Bureau, this is the 15th consecutive year that the Lakers are playing on Christmas (since 1999), second only to the Knicks, who played on Christmas for 38 straight years (1950 to 1987).
Kobe Bryant has played in an NBA-record 14 straight Christmas games, a streak that will end Wednesday. The longest active streak of games played on Christmas now belongs to LeBron James, who will have played in seven straight after Wednesday.
The Heat are a perfect 6-0 against the Western Conference this season. They're averaging 110.2 points per game and shooting 56.1 percent in those games, both best in the NBA.
On top of that, the Heat are 4-0 all time against the Lakers on Christmas. The teams last met on Dec. 25 back in 2010, the first season in which the Big Three was formed. James recorded a triple-double in that game, totaling 27 points, 11 rebounds and 10 assists.
Let's take a look at some important stats to keep an eye on during Wednesday's game.
James' torrid pace
LeBron is on pace to have one of the most efficient seasons in NBA history. King James is averaging 24.9 points on a career-best 60.1 percent shooting. The only player in NBA history who averaged at least 25 points while shooting 60 percent or better from the field in a single season was Kevin McHale in 1986-87.
James shot 56.5 percent from the field last season. Should he increase his field goal percentage again this season, it would be the seventh straight season he's done so.
[+] Enlarge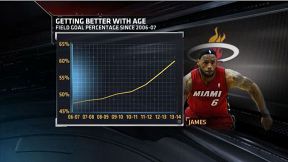 ESPN Stats & Information
James has improved his field goal percentage in each of the past six seasons. If he continues this pace, he will become only the second player in NBA history to accomplish that.
Lenny Wilkens is the only player in NBA history who increased his field goal percentage in seven consecutive seasons, and his highest shooting percentage during that streak was 44.0 percent.
LeBron is averaging 28.2 points in 20 career games against the Lakers, the fourth-highest mark all time. Only Wilt Chamberlain, Kareem Abdul-Jabbar and Michael Jordan had higher averages against the Lakers.
James can join some legendary ranks this season. He is seeking to join Larry Bird, Wilt Chamberlain and Bill Russell as the only players in NBA history to win three straight MVPs.
On top of that, he can win his fifth MVP award. The only players to win at least five are Abdul-Jabbar (six), Jordan (five) and Russell (five).
He also can become the first player in NBA history to win five MVP awards in a six-season span.
Lakers better without Kobe?
Bryant holds the record for appearances (15) and total points (383) on Christmas Day. The last time the Lakers played a Christmas game without Bryant was in 1991, when they defeated the Clippers 85-75.
Lakers Without Kobe Bryant
This Season
But the Lakers are 11-11 without their superstar, compared to 2-4 with Bryant active. L.A. has won seven of its past 11 games without Bryant.
Nick Young leads the Lakers in scoring average this season with 15.4 points per game. That's the second-fewest points by a team's leading scorer this season. Only O.J. Mayo, who leads the Bucks in scoring, has a lower average (13.9).