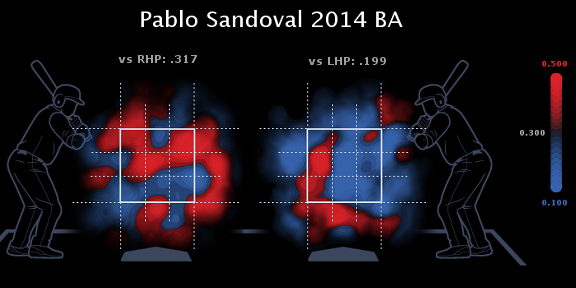 The Boston Red Sox and third baseman Pablo Sandoval have an agreement in place, according to ESPN sources and a CBSSports.com report. Here are the top stats to know on the signing.
Capable at the corner
Sandoval played a steady third base last season, finishing with four defensive runs saved. His performance at the position has fluctuated, having shown the potential to be both very good (15 runs saved in 2011 ranked second among third baseman) and not so great (minus-10 in 2012 and 2013 combined).
He's done enough to rank among the upper-end third basemen. Sandoval ranks sixth among third basemen in wins above replacement over the last four seasons, with 14.3.
Postseason greatness
Sandoval owns three World Series rings and has been an integral part of two title-winning teams.
Sandoval's .344 postseason batting average is the third highest among active players with at least 75 postseason plate appearances, trailing only James Loney's .354 and Ichiro Suzuki's .346.
He is a .426 career hitter in the World Series and went 8 for 16 in the last four games of the 2014 series against the Royals.
Strength: Plate Coverage
Sandoval has been one of baseball's best bad-ball hitters. He's led the majors in hits against pitches out of the strike zone in each of the last two seasons, netting 58 in 2013 and 70 in 2014. His .265 batting average against those pitches this season was fourth highest in the majors.
Sandoval had 35 batted balls that registered as "hard-hit" by our video-review system on pitches out of the strike zone, tied with Victor Martinez for the most in the majors.
Weakness: Hitting left-handed pitching
Sandoval hit .281, .299 and .270 against left-handed pitching from 2011 to 2013, but plummeted to .199 last season.
A big deal
Sandoval received the second-largest free-agent contract for a third baseman in terms of total value. The only one that's bigger is Alex Rodriguez's $275 million deal with the Yankees. Adrian Beltre's five-year, $80 million deal with the Rangers previously ranked second.