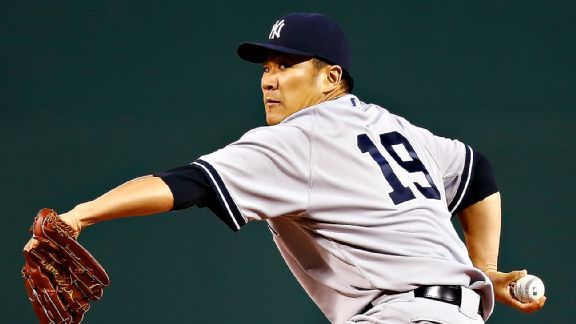 Jared Wickerham/Getty Images
Masahiro Tanaka has struck out 58 batters in his first seven starts.The New York Yankees and New York Mets enter the third game of their four-game Subway Series (7 ET on ESPN) with identical 19-19 records, but the teams are heading in opposite directions. The Mets have won three in a row while the Yankees have lost a season-high four straight games.
All eyes will be on the two young starting pitchers, so let's take a deeper look at Masahiro Tanaka and Rafael Montero.
Tanaka Time
When the Yankees signed Tanaka to a 7-year, $155 million contract this offseason, Yankees General Manager Brian Cashman tried to temper expectations for the 25-year-old Japanese pitcher by saying he would be a "really solid, consistent No. 3 starter".
Fortunately for the Yankees (who have seen three-fifths of their opening day rotation go on the disabled list), Tanaka has been the team's ace so far this season, going 5-0 with a 2.57 ERA and 58 strikeouts in his first seven starts.
Most K Through 1st 8 Career Games
Tanaka's ability to get batters to swing at pitches out of the zone is a key part of his success.
Despite throwing fewer pitches in the strike zone than all but four qualified starters, Tanaka still ranks in the top 10 in strike rate because of his MLB-best chase percentage of 42 percent.
The splitter is his signature put-away pitch, throwing it almost half the time with two strikes.
Of the 95 two-strike splitters he has thrown, more than one-third (33) have resulted in strike three. Those 33 strikeouts via the splitter are nearly twice as many as any other pitcher in the majors.
Tanaka's splitter was literally unhittable during a three-game stretch from April 16-27. During those three outings, he threw 79 splitters, which netted 29 outs and just one baserunner (a walk to Chris Iannetta on April 27).
The Mets have faced only a handful of pitchers that feature a split-fingered fastball this season. In a small sample, they have not fared well with one hit and four strikeouts in 18 at-bats (.056 BA).
Montero's Debut
For the Mets, highly-regarded prospect Rafael Montero will make his major-league debut Wednesday night, becoming the first Mets pitcher to start in the Subway Series in his MLB debut.
Montero will look to keep a Mets streak going. Each of the last three starters to make his major-league debut for the team has not allowed a run. Matt Harvey, Collin McHugh and Zack Wheeler combined for 18⅓ scoreless innings in their respective starts over the last two seasons.
According to the Elias Sports Bureau, the Mets are the only team in the modern era (since 1900) to have a streak of three straight pitchers whose MLB debut was a scoreless start of at least five innings pitched.
Rafael Montero Minor-League Career
Montero had a 2.63 ERA and 4.3 strikeout-to-walk ratio in 72 minor league appearances (67 starts), including a 3.67 ERA in eight minor league starts this season.
Perhaps most impressive is that he's allowed only 19 home runs in 390 career minor-league innings. Also, in every one of his professional seasons, he has received a promotion. In other words, he's never stayed at one level for even one whole season.