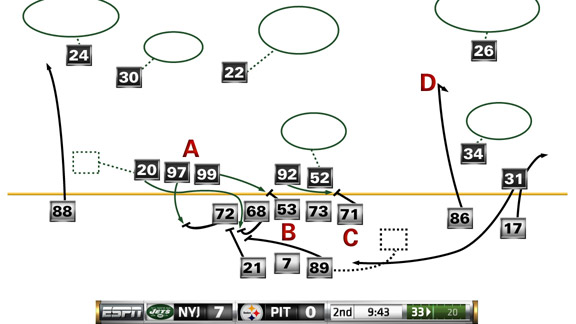 This week's edition of Chalkboard Stats examines a key third-down play from the Week 15 clash between the New York Jets and Pittsburgh Steelers.
Ben Roethlisberger connected with Hines Ward to convert a crucial 3rd-and-17, a similar down-and-distance as the 58-yard strike to Antonio Brown that set up the game-winning touchdown against the Baltimore Ravens in the AFC Divisional Round.
Using the diagram above, let's take a closer look at the play and the accompanying statistical analysis.
A) Jets' "Amoeba" defense helps to disguise pressure
New York showed heavy pressure from Roethlisberger's left, with only defensive lineman Shaun Ellis (No. 92) lined up in a three-point stance. Pittsburgh's offensive line anticipated pressure from Kyle Wilson (No. 20), Calvin Pace (No. 97) and Jason Taylor (No. 99), as all three lined up outside Steelers left tackle Jonathan Scott (No. 72). Mike linebacker David Harris (No. 52) also showed pressure to Ellis' left, drawing attention from right guard Ramon Foster (No. 73) and right tackle Flozell Adams (No. 71).

RoethlisbergerAt the snap, Roethlisberger received the anticipated pressure from his left, with Scott, left guard Chris Kemoeatu (No. 68) and Pro Bowl center Maurkice Pouncey (No. 53) fending off Pace, Wilson and Taylor, respectively. Harris dropped back into zone coverage, while Ellis put an outside swim move on Foster to engage Adams. With both Foster and Adams occupied, cornerback Antonio Cromartie (No. 31) came in unblocked and had a clear path toward Roethlisberger.
For the second year in a row, the Jets sent defensive back pressure on more dropbacks than any NFL team, allowing a passer rating of 87.1, despite conceding 7.9 yards per pass attempt (28th in NFL). This is one of many disguises they use when sending secondary pass rushers.
B) Big Ben's pump fake deflects the blitz
Roethlisberger had the league's highest passer rating this season (105.0) in the face of a defensive back blitz among quarterbacks with at least 70 attempts. Only Aaron Rodgers (9.3) averaged more yards per attempt against secondary pass pressure than Roethlisberger (9.1).
This play was one example of how Roethlisberger can beat a blitzing defensive back by himself. When Cromartie rushed at the snap, Roethlisberger pump-faked, drawing a jump from Cromartie and extending the play. While Roethlisberger's pocket presence and sheer size are assets for the Steelers quarterback in fending off secondary pressure, the pump-fake has become his signature move. Roethlisberger used the pump fake five times on the Steelers' final drive of Super Bowl XLIII, completing three passes for 59 yards and the game-winning touchdown to Santonio Holmes.
C) Roethlisberger buys time inside the pocket
Once Cromartie bit on the fake, it bought Roethlisberger some more time through his mobility inside the pocket. "Big Ben" stepped to his right while keeping his vision directed downfield.
Roethlisberger had the second-highest yards per attempt (8.5) this season passing inside the pocket (min. 100 attempts), posting a 102.8 passer rating and throwing 19 touchdowns. On this play, Roethlisberger spotted Ward (No. 86) approaching the first down marker, and identified a throwing lane over Harris at the seam between the deep zones of defensive backs Brodney Pool (No. 22) and Dwight Lowery (No. 26). Roethlisberger controlled his momentum, set his feet and found Ward.
D) Ward finds the sticks and makes the play

WardWard ran an 18-yard curl route and settled into a soft spot in the Jets' zone at the first-down marker. However, while Roethlisberger shifted right in the pocket, Ward took a couple extra steps toward the sideline and away from Pool. In doing this, Ward gave himself enough space to make the catch and get the first down before Pool could get there and disrupt the play.
Roethlisberger passed for nine first downs on third down and 11 or more yards-to-go this season, tied for the second-most in the NFL. While teammate Emmanuel Sanders was tied for third in the league with four first-down receptions on third-and-11 or more, it's the veteran Ward who was trusted to make the play here, and he delivered.