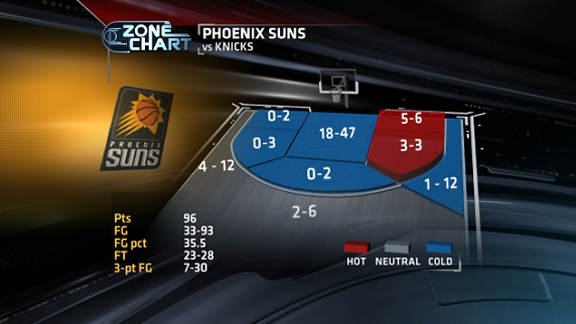 The Suns shot a season-worst 33.5 percent in losing to the Knicks.What were the statistical keys to the New York Knicks' overtime win over the Phoenix Suns on Monday night?
This was the first time in six tries that they won a game decided by three points or fewer. And the number three was a big factor in this game.
Suns couldn't buy a '3'
The Suns continued a trend that has been consistent of Knicks opponents recently. Phoenix was 7 for 30 from 3-point range.
Knicks This Season
In this five-game winning streak, the Knicks have held opponents to 24 percent shooting on their trifectas (28 for 115). Prior to this stretch, opponents were shooting 38 percent on their 3-pointers against the Knicks.
The Suns entered the game shooting 37 percent from 3, eighth-best in the NBA.
The Suns missed their final 12 shots of the game, including 0 for 7 shooting in overtime.
Anthony made his 3s, got his rebounds
Carmelo Anthony struggled with his mid-range shots, making only 3 of 14, but made up for that by making three 3-pointers and grabbing 16 rebounds.
Anthony finished with 29 points, marking the fourth time he's had at least 29 points and 16 rebounds in a game. Two of those have come this season.
Anthony is 17 for 35 from 3-point range since Jan. 1.
Shot of the Game: Felton's Corner 3
Raymond Felton played a key role in getting the game into overtime, draining a go-ahead 3-pointer from the right corner with 53 seconds to play in regulation.
It was good timing for Felton to make his first 3-pointer from that corner all season. He was 0 for 4 on those shots entering the day.
Felton had missed nine of his 11 3-point attempts over a three-game stretch prior to that make.
Stat of the Day
The Knicks have four wins against teams with records of .500 or better this month. They had a total of two in November and December, both against the Hawks.