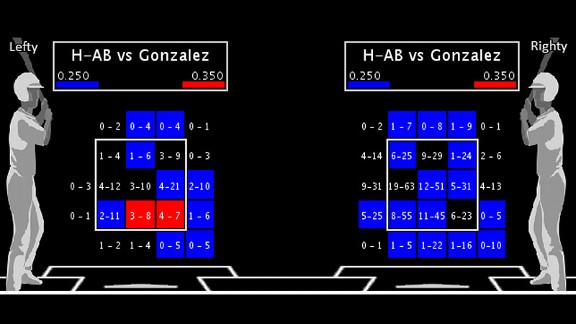 Getty Images/Gerg Fiume
Gio Gonzalez has dominated opposing hitters in 2012
One of the top storylines in the Sunday Night Baseball game between the Washington Nationals and Atlanta Braves 9 8 pm ET, ESPN) is Nationals starter Gio Gonzalez and his attempt to become the first 20-game winner in the majors this season.
Let's take a closer look at this pursuit:
Chase for 20
Gonzalez, who enters with 19 wins, is looking to be the second pitcher in Expos/Nationals franchise history to win 20 games.
The only other to do so was Ross Grimsley, who went 20-11 for the Expos in 1978.
20 Wins and 200 Strikeouts
NL LHP, Since 1980
Gonzalez could reach 20 wins and 200 strikeouts on Sunday, if he wins and strikes out nine hitters.
Five of the last six NL lefties to reach those levels won the Cy Young, the one exception being Fernando Valenzuela for the 1986 Los Angeles Dodgers.
If Gonzalez wins the Cy Young, he should thank the bats behind him. He's been getting 5.4 runs per game, the third-best rate in the NL, and significantly better than either other top Cy contender: R.A. Dickey (4.9, 10th), and Johnny Cueto (3.8, 54th).
Road Success
Gonzalez enters with an NL-best 11 wins. Another win would give him the most by an NL lefty since Tom Glavine went 12-2 in 1998. Three other NL lefties have gotten that many road wins in the last 40 seasons (Ron Bryant (1973 Giants, 13), Steve Carlton (1980 Phillies, 13), and Tom Browning (1988 Reds, 13).
How does he win?
Gonzalez's curveball is his most well-known pitch, but he's made it a point to cut back on how often he throws it. In 2010, he was throwing it 30 percent of the time. Two seasons later, he's dropped that rate to 21 percent.
That's not to say that the pitch hasn't been effective. He's third in the majors with 76 curveball strikeouts. The pitch nets him six outs for every baserunner he yields with it.
In terms of location, Gonzalez is a pitcher who thrives in working on and off the outside corner of the plate
Of the 33 left-handed starters who have qualified for the ERA title, Gonzalez ranks third in highest frequency of pitches to the outer-third or further away from hitters (48 percent).
Since the All-Star Break, he's upped that rate to 56 percent.
Gonzalez has gotten 177 hitters out with fastballs on the outer-third of the plate, or off the outside corner. That's second-most in baseball (Bartolo Colon, 182).
Exploiting a weakness
The Braves are 56-34 against right-handed starters this season, but just 27-29 when the opposition starts a left-handed pitcher. Left-handers tend to neutralize the Braves lefty hitters, most notably Brian McCann (.233 BA), Freddie Freeman (.232) and Jason Heyward (.227).
McCann in particular can't be looking to Gonzalez's curveball. He has one hit (and 13 strikeouts) against curveballs all season.
Gonzalez's pitching opponent
Gonzalez may be outdone by his mound rival on Sunday- Braves lefty Mike Minor.
Mike Minor vs RHB
2012 Season
Minor has the second-lowest ERA among NL pitchers since July 1 (2.39), trailing only teammate Kris Medlen's 0.80. It's a sharp contrast to April to June, when Minor's 6.20 ERA was the highest of any NL pitcher.
What's turned it around for Minor has been his performance against right-handed hitters. The chart on the right shows the improvements that Minor has made.
Minor and Gonzalez share a common bond. Gonzalez's .229 opponents batting average on at-bats ending with a fastball ranks best among NL starters. Minor's .241 ranks fifth.
Elias Stat of the Day
Only two pitchers from a Washington-based team were the majors' first pitcher to 20 wins: Hall-of-Fame Walter Johnson in 1913 and 1914 and General Crowder in 1933, both for the Washington Senators.