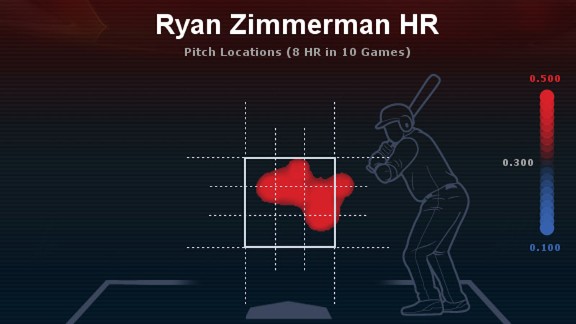 It took the Washington Nationals nearly five months to look like the team that everyone thought they would be coming out of spring training. That's particularly true on the offensive end, as the Nationals just finished a four-game sweep of the Mets at Citi Field.
It extended their run to 17 wins in 22 games, one keyed by three prominent hitters.
The Nationals outhomered the Mets 13-0 in this series, with Zimmerman hitting three of those long balls.
Highest OPS by Nationals
Since August 20
Zimmerman now has eight home runs in his last 10 games after hitting 15 in his first 122 games.
As the image above shows, Zimmerman is crushing balls thrown to the inner-half of the strike zone, or just off the inside corner.
His first 447 swings against pitches thrown to that area produced 10 HR.
His next 47 swings have resulted in six home runs.
Werth finally cooled off by going 0-for-3 with three strikeouts in Thursday's 7-2 win, but prior to that he'd been on an offensive tear.
Werth has a .376/.451/.605 batting average, on-base percentage, slugging percentage slashline in his last 43 games, which dates back to July 26. He ranks third in the majors in each of those three stats in that span.
#28 RF
Washington Nationals
2013 STATS
GM

114

HR23

RBI71

R74

OBP.398

AVG

.324
Werth is hitting balls right on the nose. His 32 percent line-drive rate over that time period is the best in the majors.
And as good as Zimmerman has been against those inside pitches, Werth has been even better. In this 43-game span, he has 40 hits against pitches to that inner-half (or off the corner) and only 23 swings-and-misses
Zimmerman and Werth have been driving runners in. Span has been one of the guys getting on base to make their hits more damaging.
Span has a 23-game hitting streak, the longest current hitting streak in the majors, during which he's hitting .385 with 37 hits and 16 runs scored.
Span has a dozen opposite-field hits during his hitting streak and has shown more of an inclination to hit the ball the other way. He had 25 opposite-field hits this season in 91 games prior to the streak's start.
Looking Ahead
After going 8-2 on a 10-game road trip, the Nationals head home for 10 games to face the Phillies, Braves and Marlins.
Washington has hit an NL-leading 87 home runs in 74 road games this season, but has only 64 in 71 home games. Zimmerman is chief among those who have a sizable home/road homer disparity. He's hit 19 home runs on the road this season and only four at home.
Did You Know?
The Nationals' 13 homers at Citi Field shattered the previous record for most hit by an opponent in a series at that ballpark. The Elias Sports Bureau notes that the previous record was seven, done four other times.
Also noteworthy, per Elias, was that the Nationals' 22 homers at Citi Field were tied for the most in a season by a visiting team against the Mets, matching the 22 hit by the 1962 Cardinals and the 1966 Pirates.