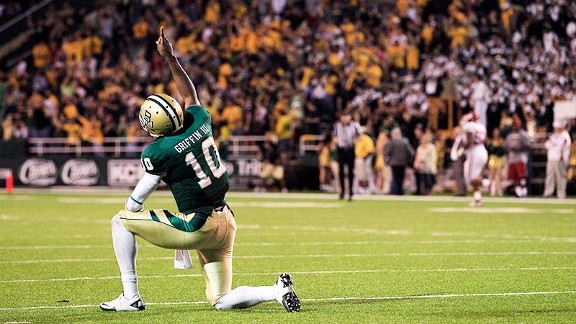 Tony Gutierrez/AP Photo
Robert Griffin III enjoyed watching Kendall Wright's amazing touchdown in Baylor's win on Saturday.
While it wasn't the game-winner, Kendall Wright's 87-yard receiving touchdown was perhaps the most dramatic play of the Baylor Bears thrilling win over the Oklahoma Sooners on Saturday night.
Robert Griffin III's pass, intended for Tevin Reese, hit off of Reese's helmet and deflected about 20 yards down the field before being caught by Wright, who went the distance for the touchdown.
It brought back memories of other famous deflections in college and pro football history:
The Immaculate Reception
Franco Harris catches deflection to win AFC Divisional playoff game
December 23, 1972: The Pittsburgh Steelers were down 7-6 to the Raiders and were facing 4th–and-10 from their own 40-yard line. Terry Bradshaw's pass, intended for John Fuqua, was broken up by Jack Tatum. The ball found its way to running back Franco Harris who scooped it up and rumbled in for the score, giving the Steelers a 13-7 win.
Nebraska forces overtime on a receiving touchdown deflected off a foot
November 8, 1997: The top-ranked Nebraska Cornhuskers trailed the Missouri Tigers 38-31 in the final seconds. Scott Frost's pass, intended for Shevin Wiggins, hit off Wiggins chest, deflected off the foot of a Missouri safety, and then was kicked back into the air by Wiggins who was being tackled. Nebraska receiver Matt Davison hauled in the deflected ball for a touchdown. The Cornhuskers would win in overtime and go on to win the national championship.
The Immaculate Deflection
Brandon Stokley hauls in deflection off Leon Hall
September 13, 2009: After Cedric Benson put the Bengals ahead with a touchdown with less than a minute to go, the Broncos scored on an 87-yard touchdown by Brandon Stokley. Kyle Orton's pass, intended for Brandon Marshall, was tipped up by Leon Hall and then caught by Stokley who raced down the sideline for the game-winning touchdown with 11 seconds remaining.