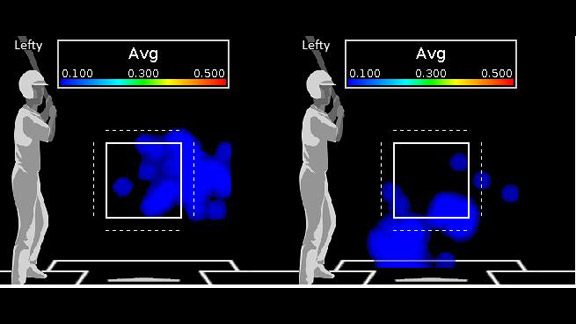 ESPN Stats & Information

Craig Kimbrel struck out lefties by going away with his fastball and down with his slider.

Click here to generate more heat maps for Kimbrel.

For the fourth time, both leagues gave rookie of the year honors to a pitcher. The last time it happened was in 1981 when Dodgers lefty Fernando Valenzuela won National League honors and Yankees southpaw Dave Righetti won the American League award.

Jeremy Hellickson is the second player from the Rays to win the award, joining third baseman Evan Longoria, who won in 2008, and the third straight pitcher to win the AL Rookie of the Year, joining Athletics reliever Andrew Bailey, who won in 2009, and Rangers closer Neftali Feliz, who won in 2010.
US Presswire

It's the first time that the AL Rookie of the Year has been won by a pitcher in three straight seasons. It happened once in the NL, from 1979 to 1981, when the award was won by Rick Sutcliffe (1979), Steve Howe (1980) and Valenzuela, all with the Dodgers.

Kimbrel is the fifth NL reliever to win rookie of the year, the first since Scott Williamson in 1999. Kimbrel set the rookie save record with 46 this season, surpassing the mark of 40 set by Feliz in 2010. He's the first Brave to win rookie of the year since shortstop Rafael Furcal in 2000.

How was each so successful?

Kimbrel averaged 14.8 strikeouts per nine innings, a rate that ranked second-best in the majors in 2011 (minimum 50 innings pitched) and sixth-best all-time.

From June 14 to Sept. 8, Kimbrel pitched 37 2/3 innings without allowing either a run or any of the three baserunners he inherited to score. In that stretch he allowed only 14 hits and 11 walks, striking out 67.
Pitcher Wins Rookie of Year Award
Both Leagues
Kimbrel allowed only two extra-base hits to the 147 left-handed hitters he faced, neutralizing them with a nasty slider. The images at the top of this article show where Kimbrel struck out left-handed hitters with his fastball (image on left) and slider (image on right). He struck out 60 left-handed hitters, the most of any relief pitcher.
Hellickson was far less reliant on the strikeout, whiffing 117 in 189 innings. His high point came in May when he went 4-1 with a 1.36 ERA and a .168 opponents' batting average in 33 innings, winning AL Pitcher of the Month honors.
As Matt Meyers noted in his Insider piece, the Rays defended very well behind Hellickson, particularly against ground balls. Opponents hit .161 when hitting a ground ball against Hellickson, 68 points below the major league average and best among all AL starting pitchers who got at least 100 ground balls last season.
Hellickson succeeded largely on the strength of his changeup, with which he held opponents to a .210 opponents' batting average, and a .221 opponents' batting average on balls in play, both of which ranked in the top 10 among starting pitchers who threw at least 100 changeups last season.
Hellickson was unusual in that he was a right-handed pitcher who wasn't shy about throwing his changeup to right-handed hitters. He threw it at a rate of about once every three pitches to right-handed batters, the second-highest frequency among starting pitchers (Rich Harden of the Athletics threw it 40 percent of the time).