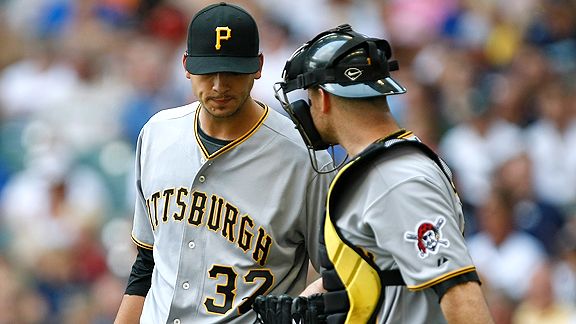 Scott Boehm/Getty Images
There haven't been many happy faces among Pirates players when they've been on the road in 2010
The Pittsburgh Pirates are approaching a level of road futility of a historic nature, with as many road wins as they have road games remaining (14).
Their 14-53 road mark will change for better or worse as they begin a six-game road swing against the Cincinnati Reds and New York Mets on Friday in Cincinnati. Here's a quick snapshot at some of their statistical lowlights, with a little help from the folks at the Elias Sports Bureau.
Worst Road Win Pct
Since 1900
• The Pirates current road winning percentage is .209. No team has done worse since the 1945 Philadelphia Athletics (13-64, .169).
• They are seven road losses away from being the first team to lose 60 road games since the 1977 Braves.
• Their 14 road wins are eight fewer than any other team in the majors.
• The Pirates 5.89 road ERA, if it stands, would be the second-worst by a National League team in the last 80 seasons, trailing only the 2000 Cubs (6.11). The 2000 Cubs won 27 road games. The Pirates would have to win all 14 of their remaining road games to beat that total.
Highest Road ERA In Season
NL, Since ER first tracked in 1912
• Speaking of the Cubs, the Pirates are 5-4 in Wrigley Field, but 9-49 everywhere else, including 3-22 in road games against NL Central foes.
Charlie Morton, Ross Ohlendorf, Daniel McCutchen and James McDonald are a combined 0-18 on the road for the Pirates with a 7.41 ERA.
• Pirates starting pitchers have an 8-41 record (.163 win pct) on the road this season. The modern record for lowest road win percentage by starters is within reach (.156, 1935 Boston Braves).
• Pirates pitchers have an opponents batting average of .303 in road games this season. The only NL team worse in the last 60 years: the 1998 Marlins (.306).
• There is a Pirates pitcher with a winning road record this season. Sean Gallagher is 1-0 in nine relief appearances, despite a 7.00 ERA and .325 opponents batting average.
• Pirates manager John Russell is familiar with road futility. He was a career .200 road hitter as a player. That included going 59-for-327 (.180) from 1984 to 1987 and 2-for-25 (.080) from 1991 to 1993.