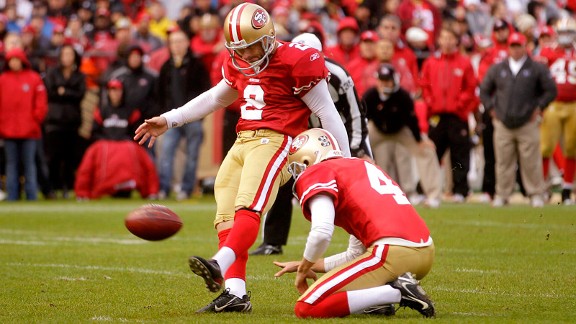 Ben Margot/AP Photo
David Akers has made his first season with the 49ers the most memorable one of his career. In a season that has been statistically dominated by quarterbacks, San Francisco 49ers kicker David Akers has shone a spotlight on those who play his position.
Akers set the NFL's single-season record for field goals made, with the four he hit on Sunday giving him 42, breaking the mark of 40, set by Neil Rackers in 2005.
Akers has made 85 percent of his 49 tries this season, a percentage a shade above the league average of 83 percent entering Sunday. He's 7-for-9 from 50 yards or longer, after making only six field goals of 50 yards or longer in the previous six seasons combined.
Those seven makes are tied for the most field goals from those distances this season with Cleveland Browns kicker Phil Dawson.
Akers set the record on a day in which his teammates' quest for an individual share of a record concluded.
The 49ers had their streak of consecutive games without allowing a rushing touchdown snapped at 15. The Elias Sports Bureau notes that matches the mark for the longest streak in the Super Bowl Era (since 1966), set by the Chicago Bears from 1986 to 1987.
The record was the latest in a series of notable accomplishments by kickers this season. Here's a list of notable kicking accomplishments from 2011.
Week 1 (Sept. 12) – Sebastian Janikowski's record-tying field goal
Janikowski tied the NFL record for longest field goal with a 63-yard blast in a 23-20 win for the Oakland Raiders over the Denver Broncos.
Janikowski has had a heck of a season when it comes to distance kicking. In Week 5 against the Houston Texans, he made field goals of 50, 54, and 55 yards, tying the NFL single-game record with three field goals of 50 yards or more.
Week 3 (September 26) Dan Bailey's 6-for-6
Dallas Cowboys kicker Dan Bailey beat the Washington Redskins by himself, going 6-for-6 in an 18-16 win. The game-winner was a 40-yarder with 1:47 left. Bailey's six field goals ties the NFL rookie record. The only other two rookies to do it are Garo Yepremian in 1966 and Jeff Reed in 2002.
Week 7 (October 24) Josh Scobee's 4-for-4 on Monday Night Football
The Jacksonville Jaguars edged the Baltimore Ravens, 12-7, with all 12 points coming from Josh Scobee, who joins Janikowski by kicking three field goals of 50 yards or more in a game, tying an NFL record.
Week 14 (Dec. 11)- Matt Prater makes field goals of 59 and 51 yards to beat the Bears
Matt Prater hit a 59-yard field goal to tie in the final seconds of regulation, then hit a 51-yarder in overtime to give the Denver Broncos a dramatic 13-10 win over the Bears. The Broncos rallied from a late 10-0 deficit to win.
Week 16 (December 24) David Akers breaks the NFL record for field goals in a season
With his third field goal in Sunday's game against the Seattle Seahawks, Akers broke Neil Rackers' NFL record for field goals in a season, with that kick giving him 41. He'd hit the game-winning field goal later in the game.
Akers' other notable accomplishment this season was breaking Jerry Rice's single-season 49ers record for points scored.