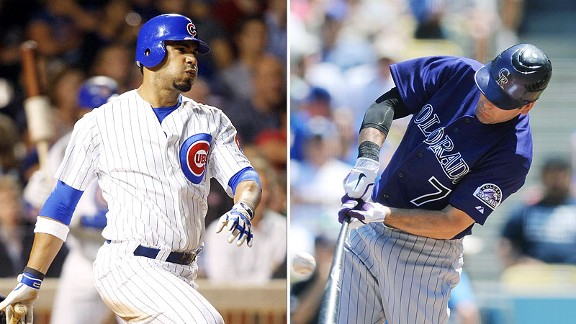 US Presswire
Carlos Pena and Seth Smith will try to match their recent power success with their new teams.Rays sign Carlos Pena
Pena has managed to continue to get playing time despite a plummeting batting average. His .216 batting average since 2009 is the lowest by a player who had at least 1,500 plate appearances over a three-season span since Rob Deer hit .210 for the Tigers and Red Sox from 1991 to 1993.
Pena has made up for his lack of batting average in other ways. His 95 home runs over the last three seasons rank ninth-best in the majors and his 275 walks in that span rank fifth-most.
Left-handed pitchers have given Pena a lot of trouble. He's hitting .179 against them over the last three seasons, worst in the majors. Pena hit .133 last season against lefties last season, second-worst to Adam Dunn's .064. Pena missed on 37 percent of his swings against southpaws last season, the worst rate in the majors.
Pena is predictable in where he hits the ball. Pena pulled 52 percent of the balls he put into play over the last three seasons, the fifth-highest rate among those with at least 300 plate appearances from the left side.
Most Difficult Throws Handled
2011 Season
Pena's reputation on the defensive side is that of someone who is very adept at handling difficult throws.
Baseball Info Solutions does video review of every play of every game, tagging plays into more than 30 categories of Good Fielding Plays. Pena was the 2011 leader in the category most pertinent to first basemen: Handling Difficult Throws.
Pena was credited with 58 instances of handling a throw that was either in the dirt or close to pulling him off the bag, 13 more than anyone else in baseball. That's the most by any first baseman in a season since BIS started charting the stat in 2004.
However, Pena did have 35 Defensive Misplays & Errors, tied for second-most in the majors, trailing only Prince Fielder's 43.
-- Mark Simon
Seth Smith traded to Oakland Athletics
Like many hitters in Colorado, Smith benefitted from his home park. Over the last three seasons, his OPS was nearly 200 points higher and his isolated slugging was more than 100 points better at Coors Field than on the road.
Coors Field was especially a homer-haven for lefties like Smith. According to BIS Park Factors, Coors inflated left-handed home run production by 29 percent over the last three seasons, the third-largest increase among all stadiums.
Despite an overall slugging percentage of .487 since 2009 that ranked 12th among all lefties, Smith appeared to really benefit from the thin air in Denver. He hit nearly the same percentage of flyballs regardless of location, but those flyballs went over the fence at a much higher rate at home.
Seth Smith Since 2009
One out of every eight flies became a homer at Coors, compared to one of every 13 on the road since 2009. Further evidence of the Coors effect is highlighted by the 23-foot difference in his home run distance at home versus on the road in 2011.
The 420-foot average for his nine home runs at Coors would have ranked third in the majors; his 397-foot average for his six road homers would have tied for 62nd out of 109 players with at least 15 homers last year.
Smith will have a difficult time duplicating that power next year in an Oakland ballpark that is really tough on lefty hitters. According to the same park factors above, the Coliseum suppressed left-handed homer production by 27 percent from 2009-11, the fifth-largest decrease in the majors.
-- Katie Sharp