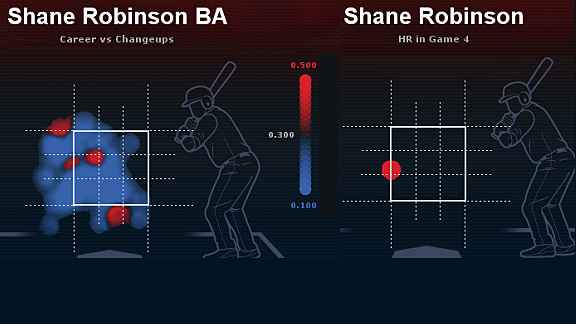 Getty Images, AP Photo
Shane Robinson did not have a good history against changeups ... but that didn't matter in Game 4.
The St. Louis Cardinals have hit below .200 in each of their four games against the Los Angeles Dodgers in the National League Championship Series.
And yet they lead the series 3-games-to-1.
Unusual things happen in baseball regularly. A 3-games-to-1 series lead under these circumstances would qualify, as would some of what happened in Game 4 of this series.
Here's to you, Mr. Robinson
Shane Robinson's seventh-inning homer, which extended the Cardinals lead to 4-2, was his first in 85 career pinch-hit at-bats (combining regular season and postseason). He was 0-for-10 career in postseason play prior to the home run.
The homer came against a changeup from Dodgers reliever J.P Howell.
That's noteworthy given Robinson's history against changeups. He had previously made 38 outs against them, netting only four hits, two walks, and one time reached via error. He'd never hit a home run against one as a major leaguer.
But if you were to say this was the least likely postseason homer in Cardinals history, you'd have a long list with which it could compete.
Among the other candidates:
• Ozzie Smith, who had never hit a home run from the left side of the plate from the start of his career through the end of the 1985 regular season, hit a walk-off homer to beat the Dodgers in Game 5 of the 1985 NLCS.
• Current Cardinals third-base coach Jose Oquendo hit only one home run in 248 regular-season at-bats in 1987, but hit a three-run homer in the second inning of Game 7 of the NLCS to help his team to a 6-0 win over the Giants.
• Tom Lawless hit only two home runs in 531 career regular-season at-bats, but his three-run homer against Frank Viola helped the Cardinals win Game 4 of the 1987 World Series.
• So Taguchi hit only two home runs in 316 regular-season at-bats in 2006 but put the Cardinals ahead in Game 2 of the NLCS against the Mets with a ninth-inning homer against Billy Wagner.
• In the very next game, Taguchi's teammate, pitcher Jeff Suppan, who entered with one career home run, homered and held the Mets scoreless to put the Cardinals ahead in the series, 2-1.
And one other note on Robinson: The other three players with a last name of Robinson to homer in postseason play are all Hall-of-Famers: Jackie Robinson, Frank Robinson and Brooks Robinson.
Turning point: Maness gets another double play
One of the pivotal points in this game came with the Cardinals leading 3-2 in the sixth inning with a runner on first and one out. Mike Matheny put his double-play inducing machine, Seth Maness to work.
Maness came through, getting Juan Uribe to bounce into an inning-ender.
Maness induced a double play in 29.6 percent of his GIDP situations during the regular season, the highest percentage in baseball.
The Cardinals bullpen has allowed one run in 14 innings in this series. Their relievers, whose fastballs have averaged 96 mph, have totaled 13 strikeouts in those 14 innings.
But it's not over yet …
The Cardinals are up 3-games-to-1, which is familiar, but not pleasant territory for them in NLCS play.
In the previous two postseasons in which it led 3-games-to-1 (1996 and 2012), St. Louis failed to win another game and was outscored by a combined 52-to-2 margin by the Braves and Giants in Games 5 through 7.