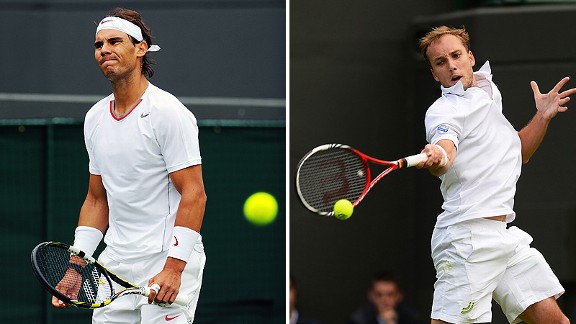 Getty Images, AP Photo
Rafael Nadal (left) was upset by Steve Darcis in straight sets at Wimbledon on Monday.
Rafael Nadal lost in straight sets to Steve Darcis in the first round of Wimbledon after winning the French Open a few weeks ago. Let's look at Nadal's loss by the numbers, with some next level analysis as well.
By the numbers
1 – Nadal lost in the first round of a Grand Slam for the first time in his career. He was undefeated in 34 career first-round matches at Grand Slams entering Monday. Steve Darcis entered Wimbledon with just one win in 13 career matches against top 10 opponents.
2 –The straight-set loss was only the second such defeat at Wimbledon of Nadal's career, and that came 10 years ago. Darcis entered the match with just two wins this season before Monday's upset. Darcis also has two career ATP titles, none since 2008.
Tale of the Tape
135 – Speaking of Steve Darcis, his rank of 135 is the lowest of any player ever to beat Nadal at a Grand Slam. Also, for the second consecutive year, Nadal lost at Wimbledon to a player ranked 100 or worse. Lukas Rosol was ranked 100th before defeating Nadal in last year's Wimbledon.
and 12 – that's the amount of Grand Slam first-round losses Darcis had in his career entering Monday's contest. It's also the amount of majors Nadal has won, showing just how far apart these two players have been throughout their careers.
Next Level insights from IBM
IBM Insights looks at statistics that indicate what players can do to increase their likelihood of winning a set (and therefore the match). No surprise, even the Insights did not give Darcis much of a chance against Nadal. In fact, if Darcis won 27 percent of first serve return points, his chance of winning a set from Nadal was 53 percent. For the match, Darcis was able to win 28 of 80 first serve return points (35 percent).
As for Nadal, he was unable to pounce on Darcis' second serve. When Nadal wins 57 percent of second serve return points, he wins sets 90 percent of the time. But on Monday, Rafa won just 21 of 49 of those points (43 percent).