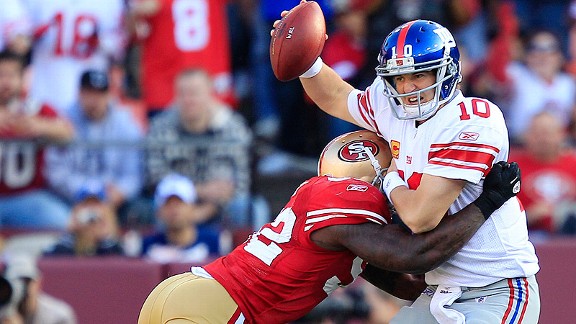 AP Photo/Marcio Jose Sanchez
The 49ers defense caused trouble for Eli Manning, leading to good field position for an offense that capitalized enough to win.
On Sunday, the San Francisco 49ers got the biggest win on a day when the west proved to be best.
That's west as in the NFC West, which went 4-0, with the St. Louis Rams, Arizona Cardinals and Seattle Seahawks all winning close games as well.
Since the NFL's divisions were re-aligned in 2002, the four teams had never won in the same week.
The 49ers beat the Giants despite losing Frank Gore to a knee injury. He finished with zero rushing yards, snapping his streak of five straight 100-yard games.
Alex Smith Passing By Target
Sunday vs Giants
Alex Smith, who entered the day second in the NFL in completion percentage when targeting his tight ends, was again sharp when looking to his big target on Sunday. He was 9-for-11 for 109 yards and a touchdown on such throws. The touchdown for Vernon Davis was his 33rd, tying Brent Jones for the most by a tight end in team history.
The 49ers defense forced two turnovers and won the field position battle. It was the eighth time in nine games this season that they forced two or more turnovers. The Giants' best starting field position was their own 22-yard line (10 possessions), while the 49ers' average drive started at their own 35-yard line.
Eli Manning had a pair of interceptions on throws traveling at least yards downfield, giving them 10 interceptions on such throws this season. Last season, the 49ers intercepted only four passes on throws of that distance, ranking 28th in the league.
Earlier this week, we wrote about how the 49ers special teams would be a key and the kicking game was huge.
David Akers made all four of his field goal attempts, including a 52-yarder that made him 5-for-5 on kicks of at least 50 yards this season. He's made 15 straight field goals overall and is now 23-for-25 on tries this season.
Elsewhere in the NFC West
Other statistical highlights from Sunday …
• The Seahawks eked out a 22-17 win over the Baltimore Ravens. Marshawn Lynch ran for 109 yards, giving him consecutive 100-yard rushing games for the first time in his 65-game career. Steven Hauschka made a career-high five field goals.
The Seattle defense held Ray Rice to 27 rushing yards, his lowest total in 21 games (ran for 20 yards at Steelers in Week 4 last season).
• Earlier in the day, the Cardinals snapped a streak of 25 straight games without back-to-back wins and snapped its 11-game road losing streak by beating the Philadelphia Eagles, 21-17. The Eagles have now blown five fourth-quarter leads this season and been outscored, 74-27 in the fourth quarter.
The Cardinals thwarted Michael Vick, holding him to 1-for-11 with an interception on throws of at least 11 yards.
• The Rams survived a scare from the Cleveland Browns, 13-12, winning when Phil Dawson missed a late field goal attempt from 22 yards. Steven Jackson rushed for 128 yards. He's had three straight games with at least 100 yards rushing, the third straight season in which he's had a streak of that length.