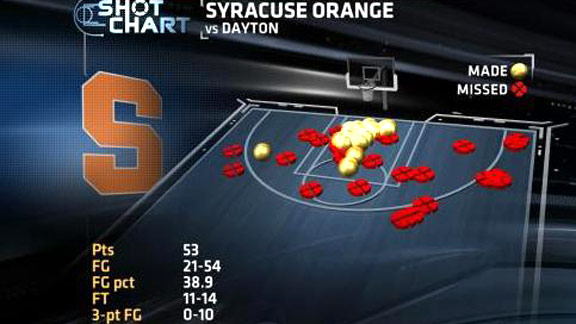 ESPN Stats & Info
Syracuse made just one field goal outside the paint in its loss to Dayton.The slipper still fits for Dayton as the Flyers upset third-seeded Syracuse 55-53 to reach the Sweet 16 for the first time since 1984.
Dayton is the sixth double-digit seeded team to win its Round of 64 and Round of 32 games by two points or fewer. That's the good news. The bad news is that the previous five teams each lost their next game in the Sweet 16.
With the win, Atlantic 10 teams are now 5-5 vs the ACC in the NCAA Tournament since 2001, including wins in both meetings this year. Before that, the ACC was 12-0 against the A-10, according to the Elias Sports Bureau.
What went wrong for Syracuse
For Syracuse, its another early exit in the Big Dance. The Orange now have six losses to teams seeded 11th or lower, matching UCLA and Oklahoma for the most in NCAA Tournament history.
Jim Boeheim has been at the helm for all six losses, becoming the first coach in NCAA Tournament history to lose six games against double-digit seeds.
Dayton and Syracuse Outside the Paint
The Orange struggled with their perimeter shooting, going 0 of 10 from beyond the arc. That is the most missed 3-pointers without a make in its NCAA Tournament history.
Syracuse dominated down low, scoring 40 of its 53 points in the paint, but made just one field goal – a Jerami Grant jumper in the second half – outside the paint.
Syracuse couldn't take advantage of Dayton's miscues, scoring a season-low six points off 14 Dayton turnovers. The Orange entered the game averaging 16.5 points off turnovers per game, best among ACC teams.
Tyler Ennis nearly brought the Orange back from a five-point deficit with 4 minutes remaining. He drove to the basket on five of the Orange's next seven possessions, scoring 11 straight points to pull Syracuse within one.
However, Ennis took jump shots outside the paint on the Orange's final two possessions, missing both as Syracuse fell victim to another NCAA Tournament upset.