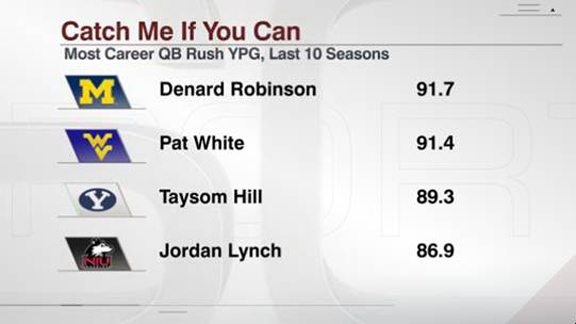 Quarterback Taysom Hill has helped BYU average 38.0 points in its first two games.After BYU's demolition of Texas in Week 2 - the Longhorns' worst home loss since 1997 - the Cougars jumped from 24th to 15th in ESPN's Football Power Index.
The Cougars now have the best chance to enter the bowl season undefeated, according to FPI, thanks to their 75th-ranked remaining schedule.
Best Chance to Win Out
According to ESPN's FPI
BYU's toughest remaining game, according to FPI, is at Boise State on Oct. 24, in which the Cougars have a 72 percent chance to beat the Broncos.
With quarterback Taysom Hill at the helm combined with a manageable remaining schedule, the Cougars might just be a sleeper for the playoff.
Hill might be the player who most resembles the idea of a "dual-threat quarterback" in college football.
He began as a situational player when he returned from his LDS mission to Sydney, Australia, in 2012. But since he took over as starter in 2013, he has been a pleasant surprise for the Cougars.
Making plays in the ground game
Hill is best-known for making big plays with his feet. His career average of 89.3 rush yards per game ranks third among FBS quarterbacks in the last 10 seasons.
BYU QB Career Comparison
Steve Young vs Taysom Hill
Last season, Hill finished with six 100-yard rushing games, tied for second-most by an FBS quarterback, and rushed for the third-most yards (1,344) in a season in BYU history. He is already BYU's all-time leading rusher among quarterbacks.
Since the start of last season, Hill has the most rushes of at least 10 yards (69) among FBS players, 42 on designed runs. Almost half of Hill's designed runs have been zone-read plays, on which he averages almost nine yards per rush.
Like former BYU great Steve Young, Hill has improvisation skills, as he trailed only Johnny Manziel in scramble yards per game (41.5) last season.
Hill's passing has improved
Hill's passing game should not be overlooked. He completed 58.3 percent of his passes from inside the pocket last season; in two games (against Connecticut and Texas) this season, he has completed 78.8 percent of such passes.
Hill's increased accuracy can be attributed to shorter passes. This season, Hill's passes have traveled an average of 6.7 yards downfield, 3.5 yards per attempt shorter than last season. He has thrown six passes that traveled more than 15 yards downfield this season. He averaged 7.2 such passes per game in 2012.
Hill has posted a Total QBR of more than 80 in both of BYU's games this season, one of seven qualified FBS quarterbacks to do so. This group includes Jameis Winston, Marcus Mariota, Everett Golson and Trevor Knight. Hill had only three games with a Total QBR of at least 80 in 2012.