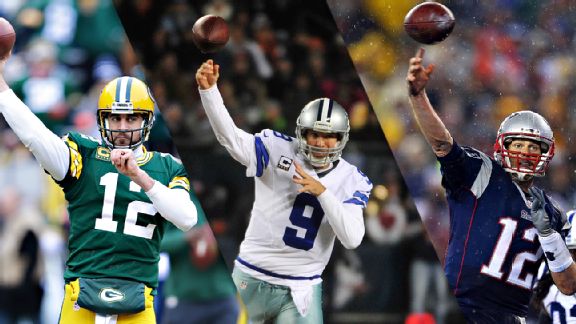 Wire photos
Aaron Rodgers, Tony Romo and Tom Brady each has statistics that are MVP-worthy.Quarterbacks have dominated The Associated Press NFL MVP award in recent years, but this season there is a strong candidate to become the first non-offensive player to win since Lawrence Taylor of the New York Giants did so in 1986.
Below are some of the key statistics about the favorites for MVP:
Aaron Rodgers
Aaron Rodgers of the Green Bay Packers could add to the MVP award he won in 2011. A key component of his performance was his ability to be highly productive and avoid mistakes.
Aaron Rodgers 2011 vs. 2014 seasons
Rodgers threw 25 touchdown passes without an interception in home games. That is the most in one season in NFL history -- 2 ½ times as many as No. 2 on this list, Steve Young (10 in 1987).
Rodgers threw at least two touchdowns and had no interceptions in all eight of the Packers' home games. That streak of eight is two games longer than anyone else's. Peyton Manning had a six-game streak of two touchdown passes without an interception comprising the final two home games of 2010 and his first four home games in 2012 (he missed 2011 after undergoing surgery).
Rodgers has a record streak of ball security at home that is still alive. He has thrown 418 passes at Lambeau Field, dating to 2012, without having one intercepted, according to the Elias Sports Bureau. No. 2 on this list is Tom Brady of the New England Patriots, 288 passes from 2002 to 2004.
Rodgers had 38 touchdown passes and five interceptions this season, the best ratio in the NFL and the best of his career.
Tony Romo
Tony Romo led the NFL in Total QBR this season (82.7), and the QBR leader has won the MVP in three of the previous four seasons.
Tony Romo passing last 2 seasons
Romo led the NFL in completion percentage this season (69.9 percent). He passed less often than in 2013 and was more effective, aided by the Cowboys' improved rushing.
Romo had career highs in completion percentage, Total QBR and touchdown-to-interception differential (plus-25).
In contrast to Rodgers' effectiveness in home games, Romo led the Cowboys to an 8-0 record on the road this season and had a Total QBR of 88.9 away from home. His Total QBR, completion percentage (70.6) and passing touchdowns (20) on the road led or tied for the lead in the NFL this season.
Romo was the best quarterback after halftime this season, with a Total QBR of 89.6 in the second half and overtime, by far the highest in the NFL.
Tom Brady
After throwing four touchdown passes in his first four games, Tom Brady threw 28 in the next 10 games and posted the highest Total QBR (85.2) in the NFL in Week 5 through Week 15. In the 12 games after the Patriots' 2-2 start, Brady threw 29 touchdowns (to seven interceptions) and had an 80.8 Total QBR.
Tom Brady, 2010 vs. 2014 Seasons
Brady has won the AP MVP twice (2007 and 2010), and his statistics this season weren't far off those from 2010.
Brady attempted more passes to Rob Gronkowski than to any other receiver this season, and the two connected for 11 touchdowns.
Brady led the NFL with a Total QBR of 87.8 against the blitz this season.
Andrew Luck
Andrew Luck had the most touchdown passes in the NFL (40) and the third-most pass yards this season (4,761; Drew Brees and Ben Roethlisberger had 4,952 each).
Luck became the eighth player in NFL history to throw 40 touchdown passes in one season.
Andrew Luck this season
He accounted for 77.4 percent of the Colts' offense this season, the fifth-highest percentage in the NFL.
Luck was 6-0 against the AFC South this season and was more effective in divisional games than games against other opponents.
DeMarco Murray
DeMarco Murray led the NFL in rushing this season with a franchise-record 1,845 yards. Before this year, the most in Cowboys history was 1,773 by Emmitt Smith in 1995.
Murray rushed 392 times, 80 more than any other player this season and tied for the seventh-most in one season in NFL history.
He accounted for 36 percent of the Cowboys' yards from scrimmage, the highest percentage in the league. Second was Matt Forte of the Chicago Bears, 34 percent.
Murray rushed for 100 yards in each of his team's first eight games, the longest streak to begin a season in NFL history. That broke the record of seven, set by Jim Brown in 1958.
With Murray doing most of the work, the Cowboys ran the ball on a league-high 48 percent of plays this season, compared with 34 percent in 2013.
The last running back to win the AP MVP award was Adrian Peterson in 2010.
J.J. Watt
J.J. Watt makes his biggest impact on defense, but the Houston Texans' star scored three touchdowns on offense this season. Watt became the first player in NFL history with at least three offensive touchdowns, two defensive touchdowns and a safety in one season.
J.J. Watt this season
His 47 tackles at or behind the line of scrimmage led the NFL. Watt had 20.5 sacks this season, the same total he had in 2012. He is the first player with 20 or more sacks (a stat that became official in 1982) in two seasons.
Watt recorded 53.9 percent of the Texans' 38 sacks this season. The Elias Sports Bureau notes that only Tim Harris of the 1989 Packers accounted for a higher percentage of his team's sacks.
Watt had 30.5 disrupted dropbacks, the most in the NFL. Disrupted dropbacks include sacks, interceptions, defended passes and batted passes. Second to Watt is Justin Houston of the Kansas City Chiefs with 27.