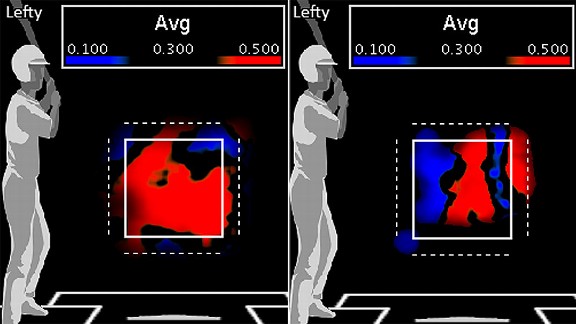 When right-handed pitchers threw in the zone, Kendrys Morales had much more success when he was hitting fifth or sixth in the lineup (left) compared to when he was hitting cleanup (right).
The only grand slam of Kendrys Morales' career was a costly one.
On May 29, 2010, Morales hit the eighth walkoff grand slam in Los Angeles Angels history; however, he broke his left leg jumping on home plate, and hasn't played since.

Morales
(Had he been able to perform at a level similar to what he did before he got hurt, Morales likely would be ranked higher than 155th on the ESPN 500.)
Morales has played sparingly this Spring Training (8-13, HR, 3 RBI through March 27), but when he's back in the lineup on an everyday basis, he is projected to hit cleanup behind offseason acquisition Albert Pujols.
However, cleanup is one spot in the middle of the lineup that Morales has fared the worst in his career. In 123 plate appearances batting fourth, Morales has hit just .216 with two home runs. (In 2009-10, Morales hit .234.)
More than 70 percent of his 1,240 career plate appearances have come batting fifth or sixth, where he has a combined batting average of .303 with 46 HR and 148 RBI (.315 in 2009-10).
But one reason Morales has a chance to succeed if he hits fourth will be -- in part -- Pujols' presence.
If pitchers don't give in to Pujols then they might have no choice but to give in to the Angels' cleanup hitter -- and that means seeing more strikes. Before his injury, Morales was one of the best hitters in baseball when pitchers had to throw the ball over the plate.
.300 BA, 30 HR, 100 RBI
Single-Season, Angels History
From 2009 until the time of his injury, Morales hit .378 on pitches that were in the strike zone. Not only was that 71 points above the league average, but it was the fifth-highest among hitters with 400 plate appearances.
Morales, who's a switch-hitter, was at his best agaisnt right-handed pitching. His average was .412 when righties threw the ball in the strike zone (see heat map above) -- the highest average among players with at least 300 plate appearances against right-handers.
Pitchers will also be hesitant with runners in scoring position to give into Pujols, a career .342 hitter in those situations. Again, from 2009-10, Morales hit .312 with runners in scoring position (league average was .267) with an OPS of 1.000.