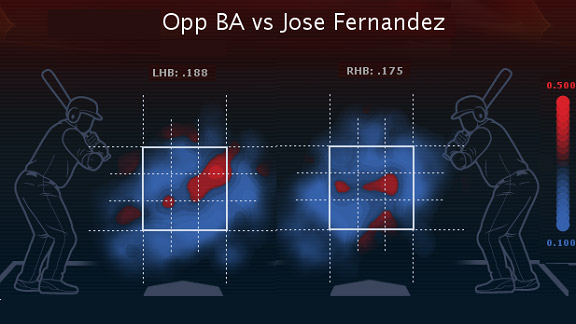 Jose Fernandez was almost unhittable in 2013.The state of Florida produced baseball teams with vastly different records in 2013, but they shared a common bond-- the top rookies in their respective leagues.
Jose Fernandez of theMiami Marlins and Wil Myers of the Tampa Bay Rays won Rookie of the Year honors on Monday night.
This marked the first time that the same state's teams produced both Rookie of the Year winners since 1993 when Mike Piazza of the Dodgers and Tim Salmon of the Angels were selected.
How Fernandez won
The heat map atop this story shows how difficult Fernandez was to hit for both left-handed batters and right-handed hitters this season. Opponents hit a combined .182 against him this season, the lowest of any starting pitcher in baseball. His .522 opponents OPS trailed only Clayton Kershaw's .521 for the major-league lead.
Fernandez was the second-best right-handed pitcher in baseball against left-handed hitters, holding them to a .546 OPS (surpassed only by Matt Harvey of the Mets. In his last six starts, Fernandez held lefties to a .138 batting average and .453 OPS.
Jose Fernandez - 2013 Season
Fernandez held right-handed hitters to a .494 OPS this season, the lowest among any of the National League pitchers who qualified for the ERA title. In fact, all three of Fernandez's slashline stats (.175/.227/.267) were NL bests.
Fernandez won with a nasty fastball, breaking-ball combo. His fastball averaged 94.8 MPH, the third-best among starting pitchers. His two breaking pitches netted 119 strikeouts, with his slider being the nastier of the two.
Fernandez's slider netted him 104 outs (65 strikeouts) and yielded only nine hits and one walk. Opponents only had one extra-base hit against his slider.
How Myers won
Myers won in a year in which the AL did not have a rookie who dominated the way Mike Trout did in 2012. He had a .293/.354/.478 slashline, generated by his success against pitches in the upper half of the strike zone and above.
Myers was nearly equally adept against right-handed pitching as he was against left-handed pitching, as noted in the chart on the right.
Myers hit .393 in at-bats that ended with pitches to that area (conversely, last year's AL winner, Mike Trout, was baseball's best hitter against pitches in the lower half of the zone). That batting average ranked best among the 268 hitters who saw at least 500 pitches in that location.
Wil Myers - 2013 Season
Myers closed the season strong, hitting .323 with four home runs, 12 doubles, 14 RBIs and 19 runs scored in his last 26 games in helping the Rays make their playoff push.
Looking ahead for Myers, one thing to keep an eye on is his .362 batting average on balls in play (BABIP). Myers was able to push his batting average up by hitting .322 when he hit a ground ball. That ranked sixth-best in the majors in 2013.
Some players (Trout among them) are able to replicate that level of success. Next season will be telling in figuring whether Myers can do so.
Elias Sports Bureau Stats of the Day
Fernandez was the first rookie to win at least a dozen games and post an ERA below 2.50 in a season with at least 170 innings pitched since Fernando Valenzuela in 1981.
The Rays became the second AL team to have three players win the Rookie of the Year Award in a six-season span, joining the Athletics, who had three winners in a row from 1986 to 1988 and three spanning 2004 to 2009.