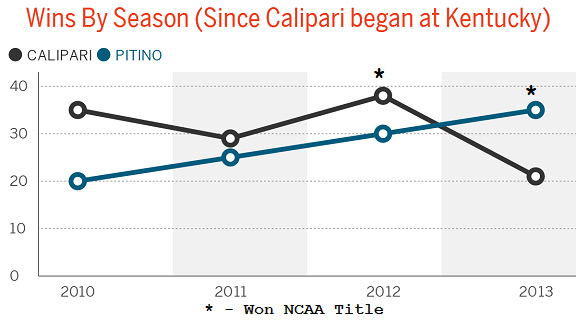 The John Calipari-Rick Pitino rivalry slightly favors Calipari in the total wins column of late.What are the top stats to know for Saturday's Louisville-Kentucky matchup?
The history
The Wildcats have dominated the series recently, winning four of five matchups since John Calipari took over in Lexington. The only win for Rick Pitino's Cardinals in that span was last season's three-point home victory against an unranked Kentucky team.
Kentucky vs. Louisville Since 2009-10
Which head coach has bragging rights in their rivalry?
Neither.
Each has won nine of the previous 18 meetings in college games.
But the rivalry is even closer than you think.
Both coaches have a 4-1 record as Kentucky's head coach in head-to-head games.
And the rivalry is also even in the NBA. Each won three head-to-head games in the late 1990s, when Pitino was with the Celtics and Calipari was with the Nets.
Youth versus experience
Louisville returned 70 percent of its minutes and 75 percent of its scoring from last season's national championship team.
Highest Percent of Points from Freshmen
Division I This Season
That's quite the contrast to Calipari's team. The Wildcats have have started five freshmen in four games this season, and 75 percent of Kentucky's total minutes have been played by freshmen.
For comparison's sake, freshmen played "only" 68.5 percent of the minutes during the 1991-92 season for the Fab Five Michigan team.
Frontcourt matchup
One of the key matchups in this game will be in the frontcourt, where the Wildcats' ability to clean the offensive glass and convert those second chances into points could decide the outcome.
Kentucky leads all major-conference teams (American, ACC, Big East, Big Ten, Big 12, SEC, Pac-12) in second-chance points per game and leads Division I in offensive-rebound percentage. Louisville is not far behind.
Battle on the Boards
The Wildcats feature a trio of big men that can crash the boards -- Alex Poythress, Julius Randle and Willie Cauley-Stein. Each has scored at least 30 points on offensive-rebound putbacks, making Kentucky the only major-conference team with three players that have put up those numbers.
Louisville has allowed only 9.3 second-chance points per game. In their only game against a top-25 team, the Cardinals held North Carolina to 12 second-chance points, one of the Tar Heels' lowest outputs this season. Louisville has also been vulnerable in the paint, with almost half of its points allowed coming in that area.
Backcourt matchup
Kentucky also needs its young guards to be able to handle the swarming press and backcourt defense of Louisville if it wants to add to its recent run of success against its rival.
The Cardinals force turnovers on 26.6 percent of their opponents' possessions, fourth-best in Division I, and average nearly 10 steals per game. Louisville takes advantage of those miscues, converting them into more than 21 points per game, which leads all major-conference teams.
Wildcats freshman point guard Andrew Harrison has struggled to hold onto the ball, coughing it up on nearly a quarter of his possessions. He turned the ball over a combined eight times in losses to Michigan State and North Carolina, and had a season-high five turnovers against Eastern Michigan.
The three primary guards -- the Harrison twins and James Young -- have been mostly ineffective as long-range shooters, making fewer than one-third of their 3-point attempts.
If the Wildcats cannot dominate on the boards and take advantage of their strength down low, it could be a long afternoon for Kentucky, which may not have the outside shooting to cope with Louisville's aggressive perimeter defense.