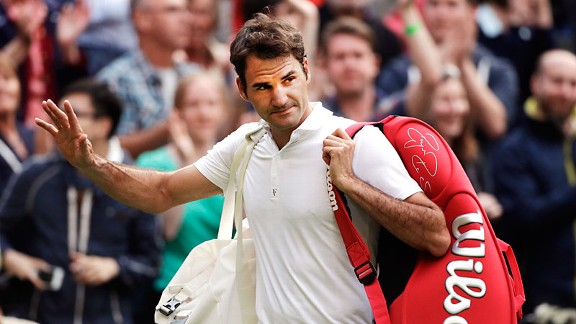 AP Photo/Anja Niedringhaus
Roger Federer's loss Wednesday was his first loss in the second round of a Grand Slam in his career.The upsets continued at the All-England Club today as third-seeded Roger Federer lost in the second round to Sergiy Stakhovsky in four sets.
Combined with Rafael Nadal's loss in the Steve Darcis in the first round yesterday, this is the first Grand Slam in which both Federer and Nadal were in the draw and that neither reached the third round.
Earliest Wimbledon Loss in Open Era
By Defending Champion
Federer had several notable streaks snapped with the loss to the 116th-ranked Stakhovsky.
This was Federer's first loss to a player ranked outside the top 100 in eight years. Richard Gasquet was ranked 101st in the world when he beat Federer in the quarterfinals at Monte-Carlo in 2005.
It was only his second loss to a player ranked outside top 100 at Grand Slam, and the first since he lost to No. 154 Mario Ancic at Wimbledon 2002. Federer is now 45-2 in his career at Grand Slams against players ranked 100 or above.
Federer's record streak of 36 Grand Slam quarterfinal appearances, which started at Wimbledon in 2004, ended with this loss. Before Stakhovsky, the last player to beat Federer before the quarters of a Slam was Gustavo Kuerten in the third round of the 2004 French Open
And this was the first time that Federer has ever lost in the second round of a Grand Slam. He was 50-0 in the second round of Slams before losing to Stakhovsky.
How unlikely was Stakhovsky's upset against Federer? The Ukrainian was 0-20 in his career against top-10 players, the second-most losses without a win vs the top 10 among active players. Even with the win, Stakhovsky still has a losing record this season (9-10).
Federer lost the second and fourth set tiebreaks, a shocking result considering that this season he had won eight of 11 tiebreaks entering the match. Federer also broke Stakhovsky's serve only once during the entire match.
With the loss, Federer must wait until next year to go for his record-breaking eighth Wimbledon title. He was also trying to join Nadal, who has won the French Open eight times, as the only players to win eight titles at a single Grand Slam event.