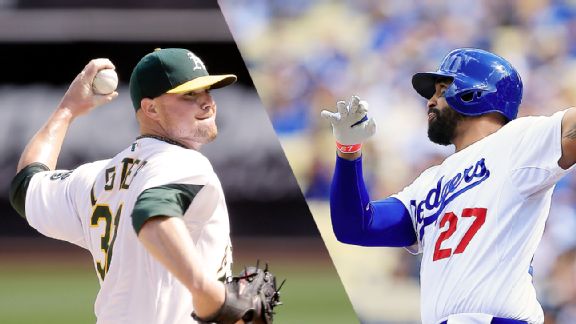 Getty Images
Jon Lester and Matt Kemp could find themselves with new teams after the Winter Meetings.The Winter Meetings begin Monday in San Diego and there are expectations of major wheeling and dealing by baseball executives.
Here's a look at some of the players who figure to be headline-grabbers at this year's gathering.
Max Scherzer and Jon Lester
Max Scherzer and Jon Lester are the two premium pitchers available in free agency this year. Both could threaten or exceed the record for largest contract issued to a free agent pitcher, $161 million by CC Sabathia with the Yankees.
In 2012, Lester posted a 4.82 ERA in over 200 innings. It improved in 2013 to 3.75 before he re-established himself as an ace in 2014 with a 2.46 ERA. What was behind this renaissance?
• Improved strikeout & walk rates: Lester has steadily improved his strikeout rate over the last three years – from 19 percent to 20 to 25 in 2014 – while simultaneously reducing his walk rate – from 8 percent in 2012 down to 5.4 percent last season.
• Fewer home runs: Lester allowed 25 homers in 2012 (good for 3.2 percent of batters faced). He allowed just 16 (or 1.9 percent) in 2014.
• Improvement against righties: Since 2012, Lester has lowered his batting average allowed vs righties by 48 points, and lowered his OPS allowed by nearly 170 points.
--
In 2011, Scherzer posted a 4.43 ERA, before taking a step forward in 2012 with a 3.74 ERA. He's been a true ace since the start of last season, however, eclipsing 200 innings in both while finishing in the top-5 in the AL Cy Young in both 2013 and 2014.
What led to this improvement?
Max Scherzer Wins Above Replacement
Ranks Since 2011
• Better versus lefties: From 2011-12, left-handed batters hit .286 with an .837 OPS against Scherzer. Since the start of last season, lefties have hit just .233 with a .666 OPS.
• Now a strikeout artist: Scherzer's strikeout rate jumped from 8.0 per 9 innings to 11.1 from 2011-12, and has stayed above 10 strikeouts per 9 innings since. This relates to his performance with two strikes – opponents hit .206 from 2011-12 with two strikes, and just .149 since then.
• Added a curveball: Scherzer did not throw a curveball in 2011, before throwing it under two percent of the time in 2012. He's steadily increased its usage, though – from seven percent in 2013 to over 10 percent in 2014.
Matt Kemp
Kemp may be dangled to other teams by the Dodgers to alleviate their outfield logjam. He had a huge second half last season, leading the majors with a .606 slugging percentage and 35 extra-base hits. His 54 RBI ranked second to teammate Adrian Gonzalez.
Kemp's value may be hurt by his defensive metrics. He ranked last among outfielders last season with -23 Defensive Runs Saved.
Kemp was one of 24 players to have an OPS+ (measure of OPS relative to league average) of 140 or better last season. His 1.1 Wins Above Replacement was the lowest of the group. He was one of only three of those players with a WAR below 3.0.
J. UptonThe Braves have been rumored to be shopping Upton, who had a career-best 102 RBI last season. He brings durability, having played at least 149 games in each of the last four seasons.
Upton had four really good months and two bad ones last season. He didn't close well, hitting .169 with 30 strikeouts in 83 September at-bats.
Cespedes, like Kemp, may be dealt to deal with overload at a position. He's also coming off a career-high with 100 RBI between the Athletics and Red Sox last season.
Cespedes can make a good case that he's a difference-maker in a lineup (despite on-base percentages of .294 and .301 the last two seasons).
The Athletics went 229-136 when Cespedes played for them from 2012-14. They were 49-72 in all other games.
Samardzija may be the best pitcher available via trade. He had a 2.99 ERA last season, split between the Cubs and Athletics, his best ERA in three seasons as a starting pitcher.
Samardzija is one of five pitchers with at least 200 strikeouts in each of the last two seasons, along with Scherzer, Chris Sale, Kershaw and Felix Hernandez.
ShieldsJames Shields may not command the price of a Scherzer or Lester, but whoever signs him will be getting an arm with a lot of mileage on it.
Including the postseason, only two pitchers have logged more innings than James Shields' 1,969 2/3 since he debuted in 2006 – Justin Verlander (2,065) and Felix Hernandez (1,976 1/3).
For the third time in four seasons, Cabrera produced a .300 batting average and .800 OPS. In fact, he was one of only three outfielders to achieve that in 2014 The others were Andrew McCutchen and Michael Brantley.
RobertsonDavid Robertson is reportedly seeking one of the largest free agent contracts ever issued to a relief pitcher. The current mark is Jonathan Papelbon's four-year, $50 million deal with the Phillies.
For his career, Robertson has struck out 524 batters in 393 innings pitched, the best strikeouts per 9 rate of any active pitcher with at least 350 innings (12.2).
Miller has evolved from a top prospect who was struggling significantly to one of the most dominant relievers in the game. His 43 percent strikeout rate last season ranked second to Aroldis Chapman's 53 percent among pitchers who threw at least 50 innings in 2014.