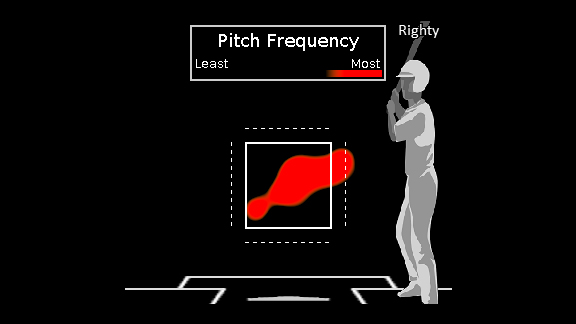 Where opponents have most frequently thrown fastballs to Albert Pujols this postseason.
Click here to create your own Pujols heat maps
The circumstances are such for the Milwaukee Brewers in Game 3 of the NLCS that they don't have many options as to how they can pitch to St. Louis Cardinals first baseman Albert Pujols. This is due to how he's performed in the 2011 playoffs, as well as how he's performed in the past against their pitcher on Wednesday night.
This postseason, Pujols has seen 61 fastballs (including cut fastballs and sinkers). He's swung at 33 of them and those swings have netted 10 hits and just five outs.
It hasn't mattered where Pujols has been pitched. If he sees a fastball, chances are good he's going to do damage. He has four hits against them when they were out of the strike zone, most recently two of his three doubles in Monday's rout of the Brewers.
The heat map above shows the areas in which he's seen fastballs most frequently, with the red shading representing 30 pitches. He's 8-for-12 against those 30 pitches.
Most Career HR in LCS
Pujols is 10-for-his-last-18 against Brewers Game 3 starter Yovani Gallardo, including 6-for-11 this season with three home runs. On September 1, Pujols hit a pair of home runs, including a grand slam, against Gallardo in an 8-4 win that helped start the Cardinals surge into the postseason.
The grand slam came on a fastball above the top of the strike zone, but the other two home runs came on breaking balls just above the bottom of the strike zone. In fact, dating back to 2009, Pujols has five hits and has made just six outs against breaking pitches from Gallardo.
Inside the Series
The Cardinals went 5-4 at home against the Brewers this season, despite only scoring 25 runs in those nine games. Their most recent meeting was a 2-0 Cardinals shutout on September 7, in which Game 3 Cardinals starter Chris Carpenter went the distance on a four-hitter.
Prince Fielder and Ryan Braun went a combined 11-for-64 with one home run among the 20 fly balls that they hit at Busch Stadium this season. That five percent home run rate is a fraction of their home run rate at home (24 percent) during the regular season.
Keep an eye on how the Cardinals do when they get ahead in the count early. The Cardinals have feasted on 1-0 and 2-0 counts in this series. They were 3-for-3 against Brewers pitchers in those counts in Game 1, 4-for-6 in Game 2.
On the Mound
Chris Carpenter is 4-0 at home in his postseason career, the first Cardinal to win his first four postseason decisions at home. He's 6-2 with a 2.94 ERA in his postseason career, including his win in the clinching Game 5 of the NLDS against the Philadelphia Phillies.
Yovani Gallardo has struck out 50 hitters in his last 34 ⅓ innings pitched dating back to the end of the regular season. In his last five starts, 31 of those 50 strikeouts have come with his breaking pitches.
Gallardo pitched eight innings of one-hit ball against the Cardinals on May 7.
Key Stat
Via the Elias Sports Bureau: In a seven-game series, teams who win Game 3 after being tied 1-1 have won the series 58 of 81 times. That includes a 21-8 record in the LCS.