The fantasy baseball season is entering the final turn. Some teams are pushing for a playoff spot while others are just trying to save some semblance of pride. Either way, there are some injuries that still could have fantasy impact. Here are a few to consider, keeping in mind all projected return timelines should be considered fluid.
Carlos Gonzalez, OF, Colorado Rockies (placed on DL Aug. 5): Gonzalez sprained the middle finger on his right hand when he took a hard swing. After fighting through it for a period of time, then aggravating it in early August, the team decided to give him a more extended rest in the hopes the affected ligament would heal. The small collateral ligaments provide stability to the joints of the fingers and the persistent injury caused Gonzalez significant discomfort, altering the way he was able to grip and swing the bat. Depending on the degree of injury, the healing time is variable but typically involves weeks, not days, hence the decision to give him extended down time. During his DL stint, Gonzalez has been relegated to activities that do not involve swinging the bat in order to give his finger the best opportunity to recover.
Now, after 15 days, the time has come to test it. Gonzalez won't be returning to the lineup yet; the preliminary test is simply swinging a bat. According to the Denver Post, that will happen Wednesday, and the Rockies will see how his finger responds. Not that one test will tell the whole tale. After all, Gonzalez had moments where he was hitting the ball well in July but the injury would flare up intermittently. That theoretically still could happen if the ligament has not fully healed. Unfortunately, the only way to find out is to test with the activity.
If Gonzalez responds well on his first day swinging, the expectation is that his activity will be increased during the next few days to see how his finger responds to cumulative stress. The Rockies understandably have issued no timetable and will wait to see how Wednesday's session goes. The hope is that he is further along in the healing process and that even if the finger still requires supportive taping, it will be of more assistance now than it was previously. If Gonzalez is able to hit consistently without discomfort, he could be a nice rejuvenation to any lineup.
Johnny Cueto, SP, Cincinnati Reds (placed on DL June 29, no return timetable): For anyone who was still holding out some hope for a late season return by Cueto, the curtain is starting to drop. To be fair, when Cueto went on the DL for the third time this year with a strained latissimus dorsi muscle, the Reds acknowledged it might be an issue for the remainder of the season. The latest tests administered by the team would seem to confirm that notion. According to the Cincinnati Enquirer, Cueto's most recent MRI shows about 75 percent healing of the lat. Translation: Not healed enough to begin throwing.
On the positive side, Cueto has reportedly made strength gains, so his rehab program is progressing. He will continue with the strengthening for now in the hopes that he can eventually progress to throwing. If he is able to make enough strides to potentially return to the mound, it will likely be too late for fantasy owners. After two months of not throwing, Cueto would have a ways to go to increase his arm strength sufficiently to return to the team in any role. For fantasy owners who have been hanging on in the hopes of September help, it's time to look elsewhere.
Roy Halladay, SP, Philadelphia Phillies (placed on DL May 6): Halladay has been out of view since he underwent surgery to address a partial rotator cuff tear and frayed labrum in his right (throwing) shoulder on May 16. In the past week, however, Halladay has resurfaced, making his first rehab start in Clearwater for the Phillies' Gulf Coast League team. Considering the extent of the surgery on his throwing shoulder, a first outing of six innings was an impressive debut. While the competition was not nearly big league caliber and Halladay's velocity was not big league ready, the fact he was able to throw for that long and, most importantly, without any undue soreness post-outing, is a strong indicator that Halladay is indeed likely to return this season.
He is slated to make his second rehab start Tuesday at the next level of competition for the Class A Lakewood Blueclaws. The expectation is that he will go a little deeper in terms of innings; the hope is that he will be able to turn up the velocity as well. How he fares in this outing likely will determine the next step, but it appears Halladay could be joining his major league teammates by the end of the month, just as he predicted. It's not out of the question that he could deliver a few quality starts in September as his strength on the mound improves.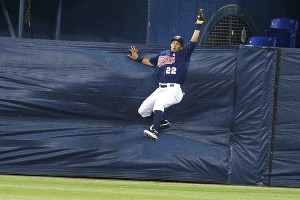 Bruce Kluckhohn/Getty Images
Even dating back to his time with the Twins, Carlos Gomez has never been afraid of outfield walls.
Carlos Gomez, OF, Milwaukee Brewers (day-to-day): The "other" CarGo makes the list, as he gave fantasy owners a scare last Thursday when he crashed into the center field wall at Miller Park, injuring his right knee. Earlier this season, he and the outfield wall had an awkward encounter and he jammed his shoulder. He was fortunate then to escape major injury; he required only a few days to recover. It's possible he was equally lucky this time around. Originally diagnosed with a sprain, Gomez underwent an MRI, which indicated no major structural damage. Three days later, Gomez initiated baseball activities, with no reported setbacks afterward. His progress has been so strong that he could be poised for a return off the bench within the next day or so, per MLB.com. He may then be available for starting duties by this weekend. Gomez has shown some impressive resiliency following these collisions, but his fantasy owners would probably prefer that he not test his luck again.
Matt Moore, SP, Tampa Bay Rays (placed on DL July 31): Just when it seemed Moore might have hit a plateau in his throwing progression, he appears to have turned the corner. On the DL due to soreness in his left (throwing) elbow, Moore has now begun to add more layers to his flat-ground throwing. The Tampa Tribune reports he added changeups to the mix without experiencing discomfort, a significant improvement, according to Moore. The plan is for him to continue with the throwing progression; a bullpen on Wednesday is up next. Working in Moore's favor is that he has not been removed from throwing for an exceptionally long time, therefore he should recover his arm strength fairly quickly. It appears if the remainder of this week goes well, he could rejoin his team the following week.