On Thursday we await the filing of practice reports to gain insight as to who is participating and how much, or at least as much as the teams will share three days before game time. Expect additional updates on players intermittently into the evening as the information rolls in.
Here's who we're keeping an eye on heading into Week 1.
Quarterbacks
EJ Manuel, Buffalo Bills , (knee): After putting in a full practice Wednesday and apparently doing enough to convince coach Doug Marrone his knee would not be an issue, Manuel was named the Bills' starter for Sunday's season opener. Manuel had already shown signs that he was moving well and could step forward onto that left leg to throw without a hitch. Manuel then returned to a full practice Thursday and barring an unusual setback will see his first NFL regular game action on Sunday.
Blaine Gabbert, Jacksonville Jaguars, (right thumb): Gabbert suffered a small fracture to the thumb of his throwing hand in the team's second preseason game. He has progressed to light throwing but still has some discomfort in the thumb leading coach Gus Bradley to hint the decision could come down to gametime. Obviously the thumb is critical to a quarterback's grip and accuracy and apparently there were some concerns in that regard after Wednesday's practice. During a conference call with Kansas City media, Bradley said of Gabbert, "at times he looked good and at times he looked like he had an injury." The Jaguars face the Kansas City Chiefs Sunday and if Gabbert is not able to go, Chad Henne would get the start.
Mark Sanchez, New York Jets, (right shoulder): A "bruised shoulder" is all the Jets have offered as far as a diagnosis for Sanchez, a vague description which could imply a range of severity from relatively benign to more serious. It would appear this is on the more serious side given that there is talk of Sanchez not being available for multiple weeks.
Running Backs
Ahmad Bradshaw, Indianapolis Colts, (foot): Despite not seeing any preseason action as he worked his way back from another foot surgery, Bradshaw has been a full participant in practice all week, giving the appearance he will be ready to play. The question then is how much. According to the Indianapolis Star, Bradshaw's workload has yet to be determined. The best takeaway from this week of practice thus far is that Bradshaw put in complete work on consecutive days. It's possible given his extended downtime that his playing time is controlled in Week 1; hopefully the Colts will add a little more clarity before Sunday.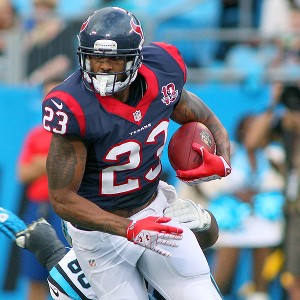 Jeremy Brevard/US Presswire
All signs points to Arian Foster playing Monday.
Arian Foster, Houston Texans, (calf): The most interesting thing about Foster's presence on the injury report is that he is listed with only the calf ailment; there is no mention of his back. Foster has been a full participant this week, and there is every expectation that he will play Monday night in San Diego. Coach Gary Kubiak said that Foster will not be a "30-carry guy" Monday night, according to the Houston Chronicle, given his limitations during the preseason.
Flash back to last season: Foster was a game-time decision for the season opener because of knee soreness, and the team hinted at increased work for Ben Tate as a result. Well, Foster ended that game with 26 carries for 79 yards and two touchdowns. Even if he sees fewer carries in Week 1, Foster has shown he can be efficient and productive in shorter bursts.
Rashard Mendenhall, Arizona Cardinals, (knee): Mendenhall is with a new team this season, but the injury bug hasn't left him. He sprained his right knee during the preseason – that's the same knee in which he tore his ACL in 2011 -- and described it as "looseness," according to head coach Bruce Arians. Last year, after a delayed start to the season coming off ACL surgery, Mendenhall dealt with Achilles and hip issues. There has to be some concern about whether he can re-establish his health and put together a complete season. On the positive side, he did participate in practice on a limited basis both Wednesday and Thursday. His status for Week 1 should become clearer after practice Friday.
Kenjon Barner, Carolina Panthers, (foot): Barner may not be a starter on many fantasy teams, but his appearance on this report does have relevance, primarily for those who own DeAngelo Williams. Jonathan Stewart is on the PUP list for the Panthers, and Barner currently holds the No. 2 position on the RB depth chart behind Williams. But Barner has not practiced this week due to a foot injury, and it looks like there's a decent chance the rookie will be sidelined for Week 1. Fullback Mike Tolbert could contribute, but it's worth noting that he has been dealing with a hamstring injury recently. Tolbert was able to move from limited practice Wednesday to full practice Thursday and does appear in line to play Sunday, however.
Wide Receivers
Victor Cruz, New York Giants, (heel): Cruz has been practicing on a limited basis this week as he tries to get past a heel bruise sustained in a mid-August preseason game. He has said he is feeling better each day and told ESPN New York's Ohm Youngmisuk that he is still awaiting medical clearance but fully expects to take the field Sunday night against the Cowboys. As the Newark Star-Ledger reported, Cruz tested the heel with hard-breaking routes earlier in the week and experienced no discomfort. The signs appear to be pointing towards Cruz playing Sunday night; the bigger worry with this type of injury is the possible in-game flare-up.
Roddy White, Atlanta Falcons, (ankle): White injured his ankle in the team's second preseason game, suffering what was called at the time a mild lateral ankle sprain. He has never missed a start in his NFL career, a virtually unheard of stat for a wide receiver, so it's unlikely that would change now. White participated in practice on a limited basis both Wednesday and Thursday and told the Atlanta Journal-Constitution, "Come Sunday, I'll be ready to go." That's music to fantasy owners' ears.
Jordy Nelson (knee) and Randall Cobb (biceps), Green Bay Packers: Neither of them appears on the Packers' injury report this week, thereby eliminating the anxiety for fantasy owners over whether they will play on Sunday. Cobb has not been as much of a question mark; the biggest concern with him is whether this biceps issue will resurface during the season. For Nelson, coming off arthroscopic knee surgery so close to the start of the season, the question was whether he would have enough time to not only recover from surgery but truly get into game shape. As reports trickled out of Green Bay in recent weeks, it appeared the Packers were more confident about his recovery than Nelson himself. Nelson initially would not commit to being ready by Week One but his recent practice activity and removal from the injury report seem to speak on his behalf. Hopefully he has regained adequate strength and conditioning to avoid compensating and risking some type of soft tissue injury; recall last year Nelson dealt with a hamstring issue which sidelined him for several weeks.
Danny Amendola, New England Patriots, (groin): Aha! For a while there, the Patriots were not disclosing the nature of Amendola's ailment (shocking!). This week, however, the injury reports are out, and Amendola's groin has been identified as the problem. Although he was absent from practice for much of the past two weeks, Amendola did return on a limited basis Wednesday and repeated the effort Thursday. It appears he will suit up Sunday, but given that this is yet another soft-tissue injury for Amendola, the bigger question is whether he can get through a game without it turning into something bigger.