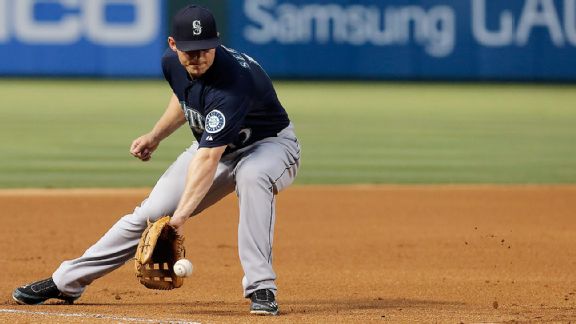 Brandon Wade/Getty Images
Kyle Seager is handling the hot corner very well for the Mariners this season.
The Seattle Mariners look like a completely different team this season, with the biggest difference being how they've gone from terrible to solidly competent in the field. The Mariners ranked last in the majors with minus-97 defensive runs saved in 2013, but have made a 114-run improvement in 2014.
That came about for a couple of reasons -- notably the reconfiguring of their outfield (goodbye, Michael Morse) and the addition of second baseman Robinson Cano.
Most Defensive Runs Saved
AL 3B in 2014
The other key piece is the improvement of third baseman Kyle Seager. Seager ranks among the most improved defenders statistically, going from minus-8 defensive runs saved last season to 10 defensive runs saved in 2014.
"When you watch him, there's nothing different [physically]," said one major league scout. "He's just completing plays instead of not getting to balls or not being in the right position."
The improvements are the product of consistent work with first-year Mariners infield coach Chris Woodward, who played second base, shortstop and third base over parts of 12 big league seasons. They've worked on some of the nuances of the position, things that Seager may not have had a lot of work with in the past, considering he played only 50 of his 269 minor league games at the position before his 2011 recall. Despite below-average rankings the previous two seasons, Seager did bring some positives to the position. He has quick reflexes and a very accurate throwing arm that ranked third-best in the majors last season, according to one measure from Baseball Info Solutions.
The improvements fall into a couple of different areas:
Positioning: The numbers show that Seager is vastly improved at fielding balls both down the third-base line and in the shortstop/third-base hole. There's very little time for a third baseman to react on balls hit to the left or right of him, so Seager has worked on his anticipatory skills, those that allow him to deduce where the ball is most likely to be hit, if it's hit near him.
Most Wins Above Replacement
AL Position Players
"I've learned how to get into a more athletic position to handle what you need to handle at third base," Seager said.
That means taking a step or two in one direction or the other as the pitch is coming to the plate. Someone like Dustin Pedroia tends to take a big hop to get himself into the right position. Seager's is a more restrained approach, but it works.
"If I step into it and keep my eyes at the same level," Seager said, "I react a lot quicker. I just want to be in a good position to make a good reaction."
It leads to making plays like this double play against the Orioles.
"He's getting better jumps on balls than shortstops do, which is mind-boggling," Woodward said. "Because he doesn't know whether a curve or slider is coming or where the pitch is going to be. But he gets tremendous jumps."
Charging balls: Seager's defensive highlight reel is dotted with plays like this one and this one, in which he had to make a tough play on the run.
"He's improved dramatically at coming in on the ball," Woodward said. "At third base, you don't get too many balls, but you rarely get the routine ground ball."
For Seager, it was about changing his mental approach to deal with that.
"My first instinct last year was to stand there, read the hop and take a step back," Seager said. "This year I've been able to identify the hop and attack it. We worked on how to hold your glove, and how to make your footwork better."
The sum of both of these improvements is a significant one. Consider the following numbers from Inside Edge (found at FanGraphs.com), which grades every play based on the percent chance it would be completed.
On plays expected to be made 10 to 40 percent of the time:
In 2013, Seager converted 1 of 10 into outs (10 percent).
In 2014, he's converted 6 of 14.
On plays expected to be made 40 to 60 percent of the time:
In 2013, Seager turned 7 of 20 into outs (35 percent).
In 2014, he's converted 9 of 12.
"He's a treat to work with," Woodward said. "You put him in the right spots and he makes the plays."
Where does he go from here?
Seager currently ranks second among American League third basemen in defensive runs saved, which will put him in the mix to be a finalist for a Gold Glove.
The only AL third baseman with better numbers is Josh Donaldson of the Oakland Athletics. Seager rates better than three third basemen with pretty good reputations: Adrian Beltre, Evan Longoria and Manny Machado. He'll likely need to keep this up the rest of the season to fully win over those who have been skeptical in the past; case in point, another scout said Seager looked about the same as he'd seen in previous seasons, which was "adequate."
But there's reason to believe he could keep this up.
"My theory is that defense is one of those things you can get better at if you have the makeup," said the scout we referenced at the beginning of this piece. "I've seen a lot of guys make themselves into better defensive players because of their work habits. Seager is one of those blue-collar workers who has the makeup to get better."