For the next two weeks, "Baseball Tonight" (airing at 3:30 p.m. ET) will take a closer look at players in the spotlight for 2012 and ask the question "What's next?" for that player. Share your thoughts in the comments section and join in the discussion.
Hanley Ramirez saw his production drop significantly in 2011, as he dealt with injuries and ineffectiveness.
Hanley Ramirez Fly Balls by Type
Ramirez finished with a batting average/on-base percentage/slugging percentage slash line of .243/.333/.379, all career lows. His OPS dropped by 141 points from 2010. He then was informed he'd be switching positions with the Marlins' signing of Jose Reyes.
One of the issues Ramirez faced in 2011 was that he was unable to do something that usually netted him positive results -- pull balls in the air.
Hanley Ramirez Fly Balls
Ramirez became an opposite-field fly ball hitter and his performance subsequently dipped, as the charts on the right illustrate.
Along with that, Ramirez had trouble driving fastballs, sinkers and cutters thrown to the upper-third of the strike zone and above.
When Ramirez made contact with what we called a high, hard pitch in 2009 and 2010, he hit .420 with 66 hits and nine home runs. That dipped to .256 with 11 hits and two home runs in 2011.
The heat map below further shows Ramirez's struggles.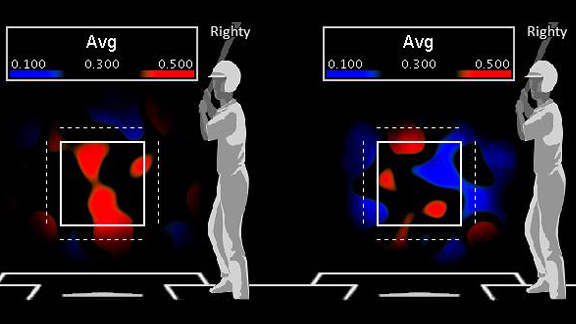 Left: Hanley Ramirez's hot/cold zones versus fastballs, cutters and sinkers in 2010.
Right: Ramirez's hot/cold zones versus those pitches in 2011.
Click here to create your own Ramirez heat maps
So, what's next for Ramirez? Will he bounce back strong in 2012? Discuss below!