For the next two weeks, "Baseball Tonight" (airing at 3:30 p.m. ET) will take a closer look at players in the spotlight for 2012 and ask the question "What's next?" for that player. Share your thoughts in the comments section and join the discussion.
Matt Kemp vs Low "Hard Stuff"
Matt Kemp enjoyed one of the best seasons in Los Angeles Dodgers history, rebounding from a variety of issues that caused his performance to plummet in 2010.
Kemp got better at a lot of things in 2011. Pick just about any aspect of hitting and the numbers show that Kemp improved significantly.
Among the most pronounced improvements was in how he hit fastballs, cutters, and sinkers that were thrown to the lower-third of the strike zone and below.
That's noted both in the chart on the right and in the heat maps below.
Can Kemp maintain this level of production in 2012? His performance against these types of pitches will be worth watching.
Will Kemp repeat his MVP-caliber season in 2012? Discuss!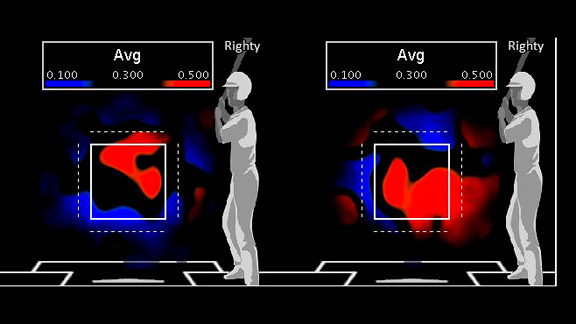 Left: Matt Kemp's hot/cold zones versus fastballs, cutters, sinkers (2010)
Right: Kemp's hot/cold zones in strike zone (2011)
Click here to create your own Kemp heat maps