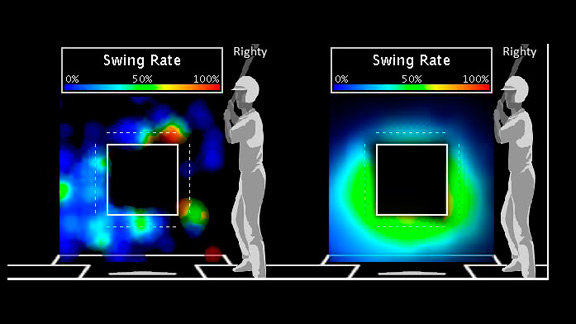 Left: Brett Lawrie's swing rate against offspeed pitches out of the strike zone (16%)
Right: Average right-handed hitter against those pitches (32%)
Click here to create your own Lawrie heat maps
Brett Lawrie made a major impression as a 21-year-old in his 150 at-bat stint in 2011 for the Toronto Blue Jays, posting the kind of debut that sets expectations soaring for 2012.
What did Lawrie do best in 2011? Let's take a closer look using some of our video-review tools.
Offense
Lawrie hit .293 with nine home runs and a .580 slugging percentage before a broken finger ended his season.
Brett Lawrie vs. Offspeed Pitches
2011 Season
One of the things that Lawrie rated really high in was in not chasing offspeed pitches (curves, sliders and changeups) thrown out of the strike zone, ranking second among the more than 400 hitters we looked at in terms of lowest "chase rate" against those pitches.
Take a look at the chart on the right. Lawrie's 16 percent chase rate was half of the major league average rate.
Lawrie was very adept at laying off pitches he didn't like. He crushed what he did like.
If a pitcher threw a fastball, cutter or sinker in the strike zone, Lawrie hammered it like few others. In at-bats ending against those pitches, he hit .400 with a 1.229 OPS and 15 extra-base hits.
Those numbers are comparable to what Ryan Braun, Adrian Gonzalez and Matt Kemp did over the full season. The only player better than Lawrie last season was another young hitter with a good rep -- San Francisco Giants catcher Buster Posey.
Can Lawrie maintain those numbers over the grind of 162 games? You tell us.
Defense
Lawrie posted an amazing defensive stat line for someone who played as few innings as he did (and for someone playing third base for the first time after spending his first two professional seasons at second).
Most Defensive Runs Saved at 3B
2011 Season
In 380 innings at third base, Lawrie was credited with 14 defensive runs saved. This was due to Lawrie successfully fielding considerably more balls than his peers.
Baseball Info Solutions charts good fielding plays and defensive misplays & errors, tagging them into 80 categories. Lawrie averaged a good fielding play every 20 innings, significantly better than the major league average of one every 31 innings.
Lawrie was also prone to misplays and errors — he averaged a misplay every 21 innings (the average rate is one every 30 innings).
But those didn't hurt his defensive value too much. Baseball Info Solutions uses a plus-minus rating to rate that skill. Lawrie was a plus-17 in 2011, meaning he fielded 17 more balls than the average third baseman would have, had he been in the field for all of the batted balls that Lawrie was on the field for.
In simpler terms, Lawrie averaged 3.7 putouts and assists per nine innings. The major league average last season was 2.6.
Fine displays of glovework by Lawrie can be seen here, here, here, and here.
Can he keep it up in 2012? You tell us.