Chase Utley's numbers have dipped significantly over the past two seasons as the Philadelphia Phillies second baseman has battled through some injuries.
Utley's biggest decline has come against left-handed pitching. In 2009, he hit .288 with 11 home runs against lefties, then followed that by hitting .294 with 10 home runs against them in 2010.
Chase Utley vs LHPs
In 2011, Utley plummeted to a .187 batting average with two home runs in 107 at-bats. Along with that dip in production came an increase in Utley's groundball rate against left-handed pitching.
As the chart on the right shows, Utley went from hitting groundballs about 35 percent of the time against lefties to doing so nearly half the time.
Below is a heat map that shows where Utley was most/least likely to hit for power when facing a left-handed pitcher.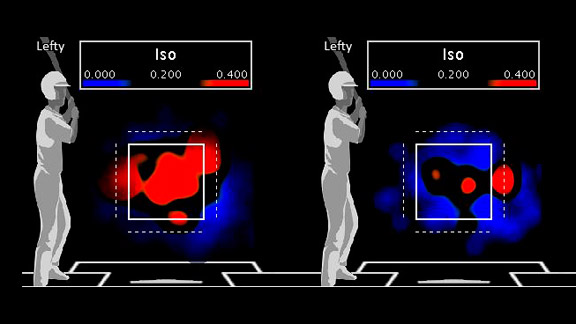 Left: Chase Utley's hot/cold power zones versus LHP (2009-10)
Right: Utley's hot/cold power zones versus LHP(2011)
Click here to create your own Utley heat maps
Getting back to the form he previously showed will be a key to any potential improvement from him in 2012. How do you think Utley will fare in 2012? Discuss in the comments section.