Atlanta Braves right fielder Jason Heyward had a significant sophomore slump in 2011, with his batting average dropping by 50 points to .227 and his on-base percentage dropping from .393 to .319.
One of the biggest differences for Heyward in 2011 compared to his debut season was how he fared against pitches on the inner-third of the plate and closer.
It was an issue against both left-handed and right-handed pitching.
Jason Heyward vs Inside Pitches
Our video review tool allows us to give a player credit for hitting the ball hard, meaning usually either a fast-moving line drive or a ball hit to the warning track. Of Heyward's 25 fly balls against inside pitches, only two met the "hard-hit" criteria.
In interviews since the season ended, Heyward cited a shoulder injury as one of the reasons for his drop-off.
Now he'll try to get back to producing both against inside pitches and others, as he's expected to do.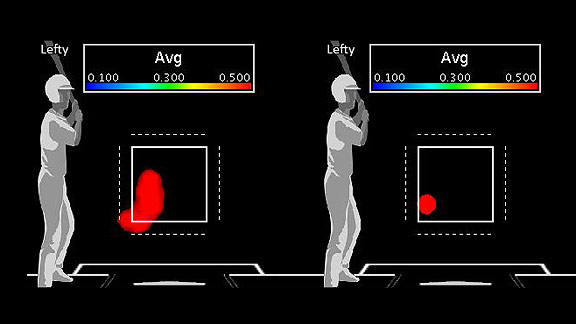 Left: Jason Heyward's 6 HR versus inside pitches in 2010
Right: Heyward's 1 HR versus inside pitches in 2011
Click here to create your own Heyward heat maps
Will Heyward bounce back in 2012? Discuss in the comments section.