New York Mets third baseman David Wright had his worst season in 2011, a year in which a back injury greatly hampered his production.
Wright came back in the middle of the season fully healthy and pelted line drives for a good part of the second half, though he hit only .216 with three home runs in September.
Wright's biggest bugaboo in 2011 was pitches located on the inner-third of the plate and closer to him. He was unable to muscle an inside pitch in the air.
Our video analysis tool allows us to give a player credit for hitting the ball hard, meaning usually either a fast-moving line drive or a ball hit to the warning track.
David Wright vs Inside Pitches
In 2010, Wright had 27 "hard-hit" fly balls against inside pitches (about 36 percent of his fly balls). In 2011, he had only three (not even 10 percent). He also hit the ball on the ground with greater frequency, as noted in the chart on the right.
With the Citi Field fences now both shorter in distance from home plate and height, Wright has an opportunity to get back to being the hitter he was.
How he fares against inside pitches will be something worth watching.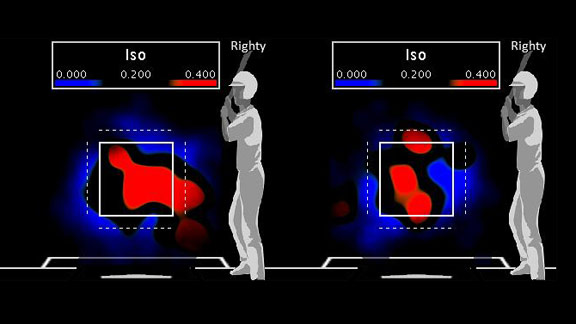 Left: David Wright's power hot/cold zones in 2010
Right: Wright's power hot/cold zones in 2011
Click here to create your own Wright heat maps
How will Wright do in 2012? Discuss below.