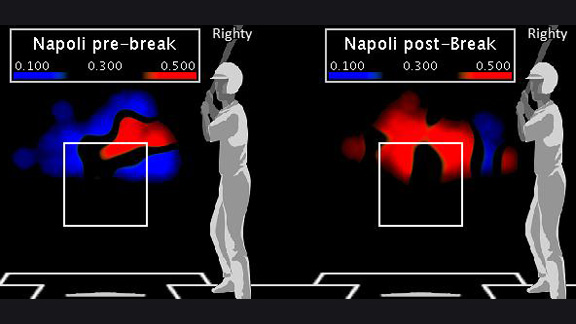 A comparison of Mike Napoli's batting average against high, hard pitches in 2011.
Click here to create your own Napoli heat maps
There are zones and then there are zones. And then there's whatever the heck Mike Napoli was in during the second half of 2011.
Napoli followed a .232/.344/.529 first half with an amazing .383/.466/.706, 18-homer burst after the All-Star break, then followed that up by hitting .328 with three home runs in the Rangers' postseason run.
What changed in Napoli's performance? How he fared against the high, hard stuff.
Napoli's return from the disabled list on July 4 was overshadowed by the other player who returned that day -- Derek Jeter. And it took Napoli a few days to get going. But on July 8, Napoli cracked a grand slam on an up-and-in fastball from Gio Gonzalez, and after a few days rest for the All-Star break, things started looking up for him.
When we say that, we mean it literally. Napoli began crushing pitches in the upper-third of the strike zone and above at a prodigious rate.
The hits came first, then the home runs -- a ninth-inning shot off Jon Rauch on July 29, an opposite-field game-tying shot in the eighth inning against Joaquin Benoit on Aug. 2, a ninth-inning homer against Jose Valverde on Aug. 3 and a sixth-inning homer to start a comeback from four runs down against Ubaldo Jimenez on Aug. 5.
In the second half, when a Napoli at-bat ended with him making contact with a fastball, sinker, cutter or splitter that was up in or above the strike zone, he was 28-for-53 with 11 home runs.
The count didn't matter much to Napoli. Of those 28 hits, 19 (including six home runs) came with two strikes.
Neither did the height of the pitch. Five of the home runs came on pitches above the top of the strike zone.
Nor did where the game was played. Of those 28 hits, 19 (including seven home runs) came away from Rangers Ballpark in Arlington.
Mike Napoli versus high, hard Stuff
2011 season
Napoli's 11 home runs on fastballs (encompassing the sinkers, cutters, and splitters, too) to high locations were four more than anyone else had after the All-Star break.
Even including at-bats that ended with a strikeout, Napoli hit .444 with a 1.032 slugging percentage on high fastballs after the break (the average non-pitcher was .244 and .405). Compare that to what he did prior, as noted in the chart on the right.
We have an advanced stat -- linear weight run value -- which looks at every high pitch that Napoli saw and gives him credit for a positive result (ball, hit, reached on error) and a debit for a negative result (strikes and outs).
After the All-Star break, Napoli's performance against high pitches was worth 17.4 runs above average. That's nearly double Nick Swisher, who rated next-highest at 9.8.
Napoli didn't let up in the postseason, netting seven more hits and three more homers against high, hard pitches. That could have been enough to net him World Series MVP had David Freese's heroics not gotten in the way.
What's next for Napoli? Can he maintain anything close to the ridiculousness that was his second half? You tell us. Share your thoughts in the comments section.