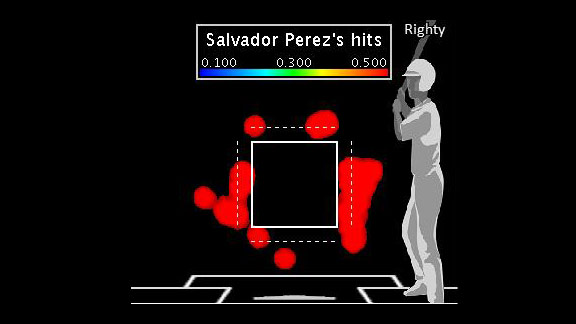 Salvador Perez had 18 hits against pitches out of the strike zone last season.
Click here to create your own Perezheat maps
"The first time I laid eyes on Sal, it took me about two days to realize he was special. I've been in this game a long time. I've seen hundreds of catchers come through and I've never seen one like him. He's a very, very rare find."
--Kansas City Royals manager Ned Yost on Salvador Perez
The Royals signed their 21-year-old catcher to a five-year contract worth $7 million, a deal that also includes three club options that could keep Perez in Kansas City through 2019. Perez didn't quite have the splash or pizzazz of a debut like Brett Lawrie, but he made the most of his 39 games in the major leagues.
While Perez showed himself to be a free swinger, he was a very effective one, hitting .331 with 13 extra-base hits in 148 at-bats.
Perez swung at 40 percent of the pitches thrown to him outside of the strike zone. That's a very high rate, comparable to the likes of Vladimir Guerrero and Pablo Sandoval.
But it is an approach that worked. Perez had 18 hits on pitches that were judged by MLB's Pitch F/X system to be out of the strike zone.
The image atop this article shows the pitch locations for those hits. He hit pitches when he was jammed. He hit them when he had to reach out. He hit them when they were high. He hit them when they were low.
That's a lot of hits in a small amount of time.
Pro-rate that to 120 games and Perez would have ranked in the top five in the majors on out-of-the-strike zone base hits.
Perez's defensive skills are also highly heralded, and were part of the reason for Yost's excitement. Royals pitchers were 19-20 in his 39 starts and their 4.23 ERA and .251 opponents batting average with him behind the plate were considerably lower than Kansas City's other catchers -- Matt Treanor (4.64/.268) and Brayan Pena (4.49, .278).
But for Perez to draw comparisons to any of baseball's top catchers, he's going to have to hit, too.
Will opposing pitchers figure out how to exploit his free-swinging ways? Or will Perez develop into the kind of hitter his manager thinks he'll be? You tell us. Share your thoughts in the comments section.