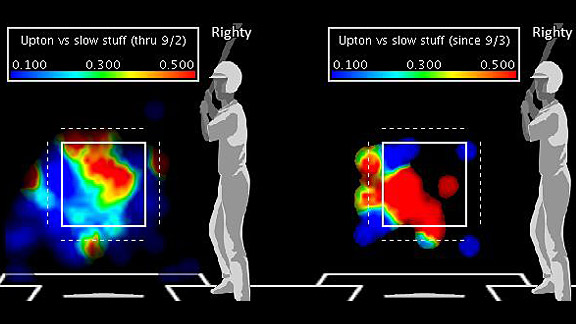 A look at the difference in production for B.J. Upton over most of the season, and then his hot streak at season's end.
Click here to create your own Upton heat maps
Tampa Bay Rays center fielder B.J. Upton is a free agent to be following the 2012 season, but he's hit sub-.250 with at least 150 strikeouts each of the previous three seasons.
Upton is someone who has shown the potential to be great, such as in 2007 when he hit .300 with 24 home runs and the 2008 postseason when he slugged seven home runs over the first two rounds. But he hasn't been able to fully live up to that potential since.
Upton closed 2011 strong and there was one aspect of what he did in the Rays' September stretch that could be key to future performance if he's able to take some of that into 2012.
Through 2010 and almost all of 2011, Upton struggled against soft stuff (curves, sliders and changeups) away. It didn't matter if it came from a righty or lefty. It was an issue.
B.J. Upton vs "Soft and Away"
2011 Season
In fact, over the month-long span from Aug. 3 to Sept. 2, Upton saw 84 curves, sliders, and changeups that were either on the outer-third of the plate or further away.
Upton swung 34 times. It netted him 14 outs and no base hits.
But either something started clicking on Sept. 3 against the Orioles or Upton started to get a little lucky. From that point, to the end of the season, he started hitting those pitches.
He missed much less often on his swings as he had in that awful streak. He had nearly as many line drives on soft stuff away as he had in the previous five months.
This time, the net results on his swings were: 10 outs and seven hits.
Granted none of the hits were game-changers of an Evan Longoria variety and he didn't pad the total in the ALDS against the Rangers. But it was something to build on and perhaps learn from heading into 2012.
What's next for Upton? You tell us. Share your thoughts in the comments section.