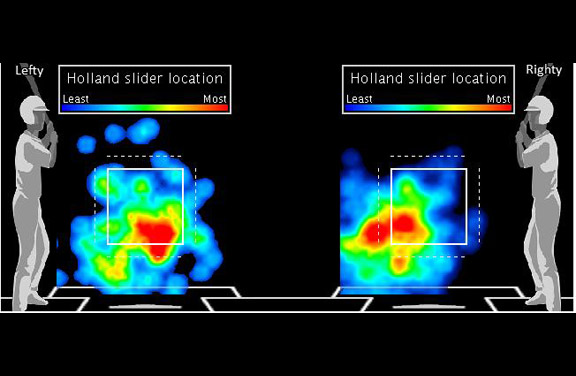 The primary location of sliders thrown by Greg Holland in 2011.
His fastball/slider/splitter combo was among the most effective in baseball.
Click here to create your own Holland heat maps
With Joakim Soria going down with an elbow injury, it's likely the Kansas City Royals will give the first opportunity at their closing role to former Dodgers closer Jonathan Broxton, who was signed as a free agent.
But there is another candidate in the Kansas City bullpen worthy of consideration.
Highest % Of Swings That Missed
2011 Season
Righty Greg Holland may not get much attention outside of those who follow the American League Central closely, but in 2011 he was that division's version of what David Robertson provided the Yankees.
Holland had a 1.80 ERA and an 0.93 WHIP in 60 innings for the Royals last season. Opponents had a .521 OPS against him, second-best in the AL to Robertson among those who threw at least 50 innings.
What made Holland comparable to some of baseball's best relievers was his ability to strike out left-handed hitters.
Holland struck out 38 of the 106 left-handed hitters he faced. The only AL right-handed reliever to have a higher percentage of strikeouts against lefties was Robertson. The average left-hander hit .185 against a right-handed pitcher in a two-strike count last season. Against Holland, they were 4-for-60 (.067).
How did he do it?
Holland's effectiveness comes from the combination of his 95-mph fastball, a slider and a split-fingered fastball. His delivery is deliberate, but his pitches are nasty. Check out this string of highlights from mid-2011 when he struck out six Rays in three innings.
Holland threw 102 splitters in 2011 (about half coming with two strikes), spotting it most frequently just below the lowest part of the strike zone. As ESPN analyst Orel Hershiser said in Wednesday's spring telecast, "The key for a pitcher is throwing a ball that looks like a strike." The splitter netted Holland 26 outs, with only two hits allowed.
The slider served as Holland's strikeout pitch. He threw 108 of them with two strikes, which resulted in 38 strikeouts.
His 35 percent putaway rate with that pitch (strikeouts divided by two-strike pitches thrown) trailed only four other pitchers who threw at least 100 two-strike sliders –- Jonny Venters, Sergio Santos, Al Alburquerque and Craig Kimbrel.
Holland's last outing of 2011, a final-week appearance against the White Sox, may have served as a foreshadowing of what was to come for 2012. After allowing a two-out double to Paul Konerko and issuing an intentional walk to A.J. Pierzynski, Holland struck out the final four hitters he faced to preserve a one-run lead. He blew away Adam Dunn with a 97 mph fastball and froze the other three hitters with nasty sliders.
It was one of four saves that Holland earned over the final two months of the season. He may get a few more chances in the near future.