Milwaukee Brewers second baseman Rickie Weeks is turning into this year's version of Adam Dunn -- a good player having a historically awful season. He's batting .158/.285/.289 and has struck out 57 times in 179 plate appearances. While he's certainly been strikeout prone in the past (184 in 2010), he had cut his K rate down last season.
The other day, Weeks forgot how many outs there way, failing to turn a double play when he could have.
Kenton Wong and Mark Simon of ESPN Stats & Information passed along this at-bat from last night against Sergio Romo, which does a pretty good of summing up Weeks' issues at the plate. He took two strikes and then swung at a pitch about two feet off the plate: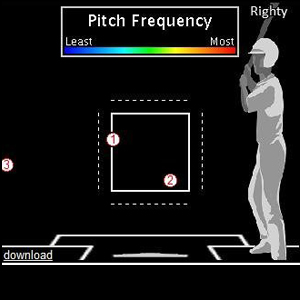 Here's an overhead image of how far outside that pitch was.
Weeks has been diving out over the plate, a problem Brewers manager Ron Roenicke told MLB.com last week is all mental: "He probably swings 50-100 times a day [in the batting cage] the right way. So why, when you get in a game, do you have a swing that's completely different than what you do in practice? Something changes up here [in the player's head]. You're thinking, 'Hey, this guy is going to pitch me away, I've got to go out and hit this ball.' The next thing you know, you're diving out over the plate."
As for the Brewers, they're 17-26 and not just because Prince Fielder is no longer in town. Weeks has been awful, Nyjer Morgan hasn't driven in a run in 116 plate appearances, Aramis Ramirez has a .299 OBP, Randy Wolf has been terrible and Yovani Gallardo inconsistent. It's a bad team right now, bad enough that Jim Bowden thinks Zack Greinke will be traded by the July 31 trade deadline.