This spring, Citadel Press published The Bullpen Gospels: Major League Dreams of a Minor League Veteran, written by Dirk Hayhurst, who was drafted by the San Diego Padres in 2003 and reached the majors near the end of the 2008 season, when he was 27. Hayhurst, a right-handed relief pitcher, was waived by San Diego and claimed by Toronto, and he pitched in 15 games for the Blue Jays in 2009. This winter, he suffered a serious shoulder injury and is currently on the 60-day disabled list. On a happier note, The Bullpen Gospels has hit the New York Times bestseller list. What follows is an e-mail interview conducted today.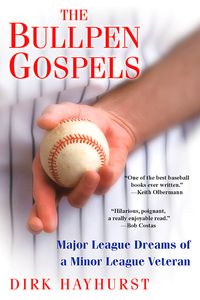 Citadel Press
Dirk Hayhurst's "The Bullpen Gospels" is on the New York Times' bestsellers list.Rob: Before we get into the book, I have to ask ... How are you doing? After kicking around in the minors for so many years -- yes, years about which you write so movingly in the book -- you pitched well for the Blue Jays last season, with a 1.31 ERA in 21 innings before a rough outing the last weekend. This winter, you must have felt like you had a pretty good shot at making the big club's Opening Day roster for the first time in your career, right? And then the shoulder surgery ... What went through your head in February when you learned that you'd miss most of the season, recovering from an injury that's somewhat notorious for being hard to come back from? And is rehab as awful as we've heard?
Dirk: I don't mean to seem arrogant, but yes, you're right: I did feel like I had a shot at making the team on Opening Day. And that hope is an integral part of a baseball player's life, the chance to do something great or finally carve out a niche for yourself in the game you love. In the minors, coaches would tell us, "You (players) shouldn't just want to make it there; that's the easy part. It's sticking that's the hard part." I don't know, it was pretty hard for me to make it there! Yet, this off-season, not only had I made it and done well, but I thought I had a chance to stick.
So when the arm started barking at me, it came as especially bad news. Playing baseball for a living is a gamble, and this turn of events was rather like watching all my winnings get snatched from me on one really bad hand.
As for the surgery itself, it's definitely not a fan favorite. Estimated dates of return optimistically slated me as back and competitive by the All-Star break. Well, tell that to my arm when it squeals just reaching across my body to scratch the other arm. I don't know what my ETA is now, but I know it's not the same as when I started ... They say baseball is 90-percent mental. I agree. I am technically still a baseball player even though I can't play right now, but some of my biggest baseball challenges have come during these times of inactivity. It's hard to wake up in the morning and know that you aren't earning your keep and, in the worst case, you may never take the mound again. That's the defeatist attitude talking about stuff that probably won't happen, but the mind tends to wonder when unoccupied. I do my best to remember that being a competitor transcends simple physical limitations.
Rob: There are moments in the book of real comic genius, and some of them might be credited to your teammates except none of it would be funny if the words or the timing were different, and those were decisions that you made, as author. I always tell kids that if they want to write well, they have to read voraciously. Am I right? Or did the Gods give you that 90-m.p.h. fastball and the ability to write funny scenes like Richard Russo?
Dirk: I have never read a baseball book, except one about Ron Guidry when I was eight or nine years old. "Louisiana Lightning," I believe it was called ... Anyway, I don't read much about baseball, mainly because I play it all day and I really enjoy escaping it when I can. Literarily speaking, I'm a huge Alexander Dumas fan, love Cormac McCarthy's style, the tone of Salinger, and the candid wit of David Sedaris.
People hear "baseball book" and they immediately think of Ball Four. I didn't read it. Not because I couldn't have learned something from it, but because I didn't want to steal his voice or ideas. I wanted my book to be my book. If I imitated his style, I really wouldn't be doing something original, and that was important to me; after all, no one is going to out-Bouton Jim Bouton.
Thanks for the "comedic genius" compliment. A lot of the credit does go to my teammates who consistently did things you can't make up. But humor has to be put in context and team humor is an extremely contextual thing. A lot of clubhouse humor is "in group" stuff. We work, live, travel, eat, and shower with each other. Over time, we develop our own language with its own definitions. I think if you want to really bring a reader into the fold, you have to show this process in a way the reader can grasp. That is one of the things I'm most proud about in the book: I feel like I present everything in a way that makes readers feel they are part of the team, rather than just observing with curious amusement.
Rob: You're careful to avoid painting teammates in a negative light, but there's some pretty personal stuff in the book about your grandmother (which I'm guessing was exaggerated for comic effect) and about your more immediate family (which I'm guessing was not). Did your family know you were working on a book? Did your teammates know? Were you taking notes during the season, or was the book written mostly from memory? Sorry, I know that's a lot of questions. Mostly, I'm just interested in the writing process, and wondering if you've had any reaction yet from the people you wrote about. Oh, and I'm wondering if you're working on another one ...
Dirk: I am careful about teammates because I am a teammate. I don't want to end up cast from the game because I used someone's name the wrong way. Furthermore, I don't think a story, even one about baseball, has to have names to sell. If a writer is worth his salt, he should be able to tell a tale worth reading without resorting to scandal and exposé. If I was to pull the cover off things, the persons exposed would be crushed and so would those who believe in them. I think we live in an age where we understand that young men, especially in sports, do juvenile and risqué things.
Funny but true: More people have been upset with me for using nicknames than for describing our juvenile behavior. I take that as a good thing and I think you can thank nicknames for it because as soon as you attach a name to a circumstance it seems to become an attack and ceases being story telling. Since nicknames are such a common part of baseball lore, it made sense to use them and I think it helps more then it hurts.
As for my dear grandmother, the tone may be comedic but the facts are not exaggerated: She is a real piece of work. Living with her is truly an adventure; you've got guns, dogs, bloodthirsty neighbors, killer squirrels, the Antichrist ... it's a Michael Bay film. It's one of those moments where facts are stranger than fiction. And then right around the corner you've got my family, falling to pieces as alcoholism and depression tears through them. I didn't have to add anything.
My family did know I was working on the book, and they read and OK'd all the chapters before it went to print. I know that some of the early chapters are raw. I had to show it. I could not, for my own conscience, hide the truth. For the story to work, I had to show that baseball can't fix everything. Dreams can change our lives, but they can't fix them. This approach pays off at the end of the book, but would not have been possible without the stark chapters at the beginning. My family is proud of all the book has accomplished, and they're in knowing their story may help others, as am I.
To create the book, I took longhand notes during the season the book chronicles. I actually wrote in little Mead journals while I sat in the bullpen. By then I had seen enough minor-league games that a little hobby style writing wasn't going to hurt me. Besides, I was pitching the best I ever had, so the coaches encouraged me to keep doing this "part of my routine." Naturally, teammates were worried I was writing down their life stories as some form of literary bomb, set to detonate upon publication. But now, after the book has landed on the NY Times bestseller list two weeks in a row, they're contact me to offer congratulations. That may be the most vindicating thing about the process, as I've gone from death threats and promises of being fired to having a bestseller without one mention of 'roids or cheating on girlfriends and wives.
And yes, Rob: I am definitely planning a sequel.
Rob: Thanks a million, Dirk. Good luck with the book, and with rehab.
For much more about Dirk Hayhurst and The Bullpen Gospels, visit his website. You can also follow him on Twitter.