I don't suppose it's simply my imagination running wild when I think that after the Braves shipped a trio of prospects to Pittsburgh for the privilege of employing Nate McLouth for the next two and a half years at the price of nearly $14 million, they probably expected a bit more than a .237/.342/.386 line over his first 514 plate appearances. Not that a .237/.342/.386 line is intolerable from your center fielder -- the average MLB center fielder hit .267/.334/.414 last year, for example -- but when coupled with suspect defense, it's not particularly valuable. Of course, Charlie Morton, Gorkys Hernandez, and Jeff Locke haven't exactly set the world on fire, but the oldest of that group is 26 and the trio is under team control for nearly two more decades combined. If there's anything the Pirates have it's time and patience (and Andrew McCutchen). But the Braves are not exactly in a position to wait on their increasingly rusty year-old toy to develop into a well-oiled machine.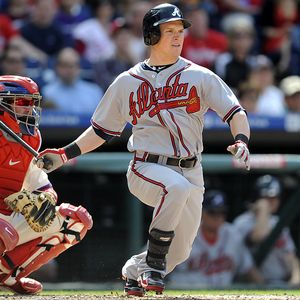 Howard Smith/US Presswire
Braves center fielder Nate McClouth isn't living up to his 2008 numbers.Five hundred and fourteen plate appearances is about a quarter of the sample I'd like to have when establishing true talent level, and anything within reason could theoretically happen in five non-consecutive months. I'd also be remiss if I didn't mention his .275 batting average on balls in play over that span likely indicates a bit of poor luck that Nate had nothing to do with. But at some point poor results are no longer an aberration, and when the opinions of visual talent evaluators align with the poor results, it comes much quicker. Maybe McLouth will snap out of his funk and hit 40+ doubles again, but at 5-11 and 28 years old I have to consider the possibility that he'll never come close to having another offensive year like he did in 2008.
Quite simply, the Braves were planning to and will need to get more production from their center fielder than McLouth has given them thus far. The question is, "Will they get it from Nate McLouth or somebody else?" Whether or not the Braves have made up their mind nobody knows, but I'll bet their patience is thinning if it hasn't run completely dry. So, it's probably appropriate to examine the various options.
Other than McLouth, the Braves have one player on the active roster that is "capable" of "playing" center field -- Melky Cabrera. In addition to leaving much to be desired in the field thus far and appearing out of shape, Cabrera isn't doing a whole lot of hitting. His 15-to-13 strikeout-to-walk ratio is somewhat encouraging, but replacing a guy hitting .167/.302/.271 with a guy hitting .196/.283/.234 doesn't seem like much of an upgrade to me -- especially when said replacement owns a career .705 OPS. Omar Infante can be called upon in a pinch, but he's really an infielder by trade and I somehow doubt his career .265/.310/.390 line represents a solution to any scoring problem. The most intriguing option in the organization is their once top prospect -- Jordan Schafer. Coming off of season-ending surgery to repair a wrist fracture that Jordan attempted to play through for nearly two months last year, he'll join the class AAA team tomorrow. As soon as the Braves like what they see from him, though, I imagine they'll be inclined to hand him the center field job in light of McLouth's recent struggles.
The right field job belongs to Jason Heyward and the Braves seem to have found a somewhat productive platoon in left field with Eric Hinske and Matt Diaz, so if McLouth does lose the center field job there's probably not another place to put him. Perhaps a team would be willing to take on all or some of the $11-plus million McLouth is owed through 2011 and acquire him via trade. He does have options, so as long as the Braves are willing to stick a player making $4.5 million in AAA, they could go that route. More likely he could be retained as a reserve, which is probably what he should be anyway.
If Schafer doesn't improve the situation, they may have to turn to the trade market. If not, maybe they turn to Brent Clevlen or Matt Young or Gregor Blanco. Maybe McLouth does start hitting again. Whatever happens, the Braves need to get more from center field, or the hole they're in may prove to be inescapable.