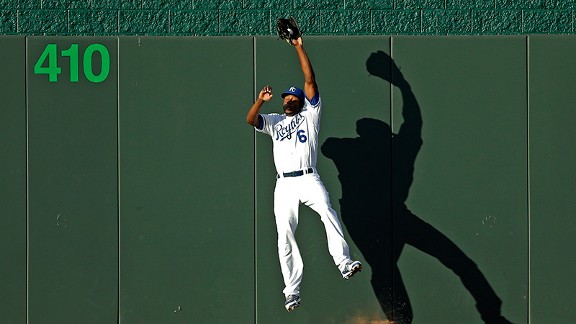 AP Photo/Charles Reidel
Lorenzo Cain no longer lives in the shadow of his peers after his terrific July.
It has been very difficult for an outfielder to win Defensive Player of the Month, but Kansas City Royals center fielder Lorenzo Cain's credentials were too good to pass up.
He's our selection as the best defender in the majors this July.
Cain's Defensive Runs Saved total jumped from eight at the end of June to 19 at the end of July. His 11-run ascension was the biggest in the majors.
Earlier this year we wrote about the ability of Brewers center fielder Carlos Gomez to catch everything hit over his head. Cain beat Gomez at his own game. The Brewers center fielder tied Gerardo Parra for third in our monthly voting, a notch behind Rockies third baseman Nolan Arenado.
Though he only hit .266 with one homer, Cain did his best to keep opponents off the scoreboard. Cain earned only one Web Gem this month, but easily could have had more. We found 10 highlight-worthy plays in July, including ...
-- A pair of sliding catches in back-to-back innings to rob Eduardo Nunez and Chris Stewart of hits in Yankee Stadium on July 9.
-- Three catches in a 1-0 win over the Tigers on July 19, including leaping grabs of deep drives hit by Torii Hunter (pictured atop this article) and Miguel Cabrera.)
Defensive Player of the Month
-- A fantastic lunging catch on a ball hit well over his head that denied Adam Jones and the Orioles a likely three-run double on July 22.
-- Multiple snags that elicited a cry of "Mercy!" from White Sox broadcaster Ken Harrelson in the Royals sweep of the White Sox last weekend.
Even the one ball Cain couldn't get to, a liner off the wall by Robinson Cano, he was still able to recover and throw a bolt to third base to nail Cano.
As part of its Runs Saved stat, Baseball Info Solutions awards fielders a value between 0 and 1 for every catch made, the number reflecting the percentage of players at that position who did not make a catch on a ball hit to that spot at that speed. Cain had 16 catches on balls that netted him a value of at least 0.20 and only one demerit of that value for a ball he missed.
Cain got a head start for the August voting on Thursday, by making a homer-robbing catch. He'll try to match the feat of Andrelton Simmons, whose reign of two straight monthly titles he ended.