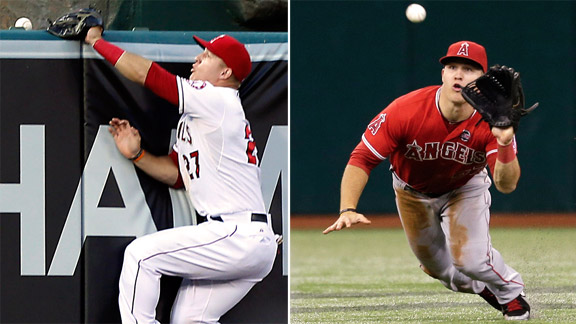 AP Photo
The "just-missed" plays have been more prevalent than the good catches for Mike Trout this season.
You might recall on Aug. 16 when Mike Trout made a couple of "Web Gem"- worthy plays against the Astros, including this home run robbery. Maybe you saw the highlights on "SportsCenter." They were the sort of plays you'll see repeated many times.
You probably don't remember too much about the July 28 Angels-Athletics game in Oakland. There were a lot of highlights for the Athletics that day: 10 runs and 10 hits in a 10-6 win on a sunny Sunday afternoon.
It's the latter game that helps us understand why Trout's overall advanced defensive metrics aren't as good as last season.
Defensive Runs Saved
Key Components
We promised an updated look at Trout's stats when we took a peek at his surprising struggles a couple of months ago, and now seems a good time for that.
Trout stands at minus-8 Defensive Runs Saved, with all eight of those negative runs coming in center field (in his 343 innings in left, he rates as average, with zero runs saved, one run better than 2012).
But Trout is trending in a positive direction. Days like Aug. 16 have been big gainers. Trout was at minus-14 Defensive Runs Saved after that July 28 game, so he gained six runs.
But the overall body of work is still eight runs negative, after posting a plus-21 last year. How can that be?
Well, there have been more days like July 28 than last year. Trout had a rough defensive afternoon that day, though you'd never know it from a basic box score, because he wasn't charged with any errors. It started with a liner to left center by Yoenis Cespedes in the third inning, one that Trout got close to, but played on one hop rather than risk a high-reward dive. As it turned out, Trout juggled the ball upon handling it, allowing Cespedes to reach second, although it was ruled a double.
In the fifth, Trout fought the sun and lost on a high-hanging popup to center by Cespedes, the ball landing a couple of feet to his right for a single. An inning later, Stephen Vogt hit a fly ball to shallow center. Trout saw this one, chased it and missed it with a half-stumble, half-reach. He then collided with his left fielder, allowing Vogt to take second base easily.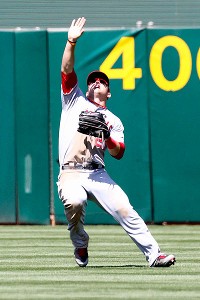 AP Photo/Bill Nichols
Even Mike Trout sometimes loses balls in the sun.
These three plays were costly, not just to the Angels, but to Trout's defensive rating. The next day, his Defensive Runs Saved total was three runs lower.
Baseball Info Solutions helped us quantify that even further. Their group watches every play of every game and charts the location and speed for every batted ball. They turn the field into a grid and can tell you for any square in their grid how often a ball hit to that area is turned into an out.
The three balls to which we're referring were hit to spots at speeds that generated outs from center fielders 57 percent, 97 percent and 92 percent of the time, respectively, in all parks, with similar numbers when isolating it specifically to Oakland's home ballpark. When a center fielder misses two balls with out rates of 90 percent or higher, that's basically the defensive equivalent of a hitter going 0-for-7. Trout and Brian Bogusevic are the only two to have a game like that this season.
Trout doesn't have as many eye-popping catches in center as he did last season. In 885 2/3 innings in center last season, BIS charted him with 26 good fielding plays (think: "Web Gem" nominees) to 17 defensive misplays and errors. This season, the split is 12-to-16 in about 100 fewer innings.
Mike Trout
On Plays w/ Expected Out Rate
Between 5 percent and 50 percent
The chart on the right looks at that in a similar way, putting BIS' grid to use again. Trout's success rate against balls hit with an expected out rate between 5 and 50 percent is way down this season. He's only caught 12 of 60 in center field. Had he caught them at last year's success rate, he'd have 22 catches.
What do we make of all of this?
This has been a season in which almost anything that could go wrong for the Angels has gone wrong. The team's outfield defense is one of those things that has taken a significant hit. Replacing Torii Hunter with Josh Hamilton and injuries to Peter Bourjos have had consequences.
Opposing hitters reached about 38 percent of the time on balls hit in the air with an estimated distance of at least 200 feet that stayed in the ballpark last season. That's jumped to 40 percent this season, but also of importance is what is happening when those balls fall in. They resulted in 224 doubles and triples last season. This season they're already at 224, with 30 games to go.
The Angels are on pace to catch about 40 more of those balls than they did last season, but that's not enough to make up for the increase in doubles and triples allowed.
Put it this way: The Angels' outfield was credited with 46 Defensive Runs Saved in 2012, second-most in the majors (the Braves had 55). This season, they're at minus-18. Only five teams rate worse. Trout has some statistical responsibility for that.
This doesn't necessarily make him a bad defensive outfielder, just as last year's numbers didn't necessarily make him a great one. One of the things that happens when we evaluate defense is that we form an early impression and presume the player is always as good as that impression. But defense, like offense, can fluctuate.
Good players can have good seasons. They can have bad ones, too. And right now, Trout's defensive season just isn't that good.