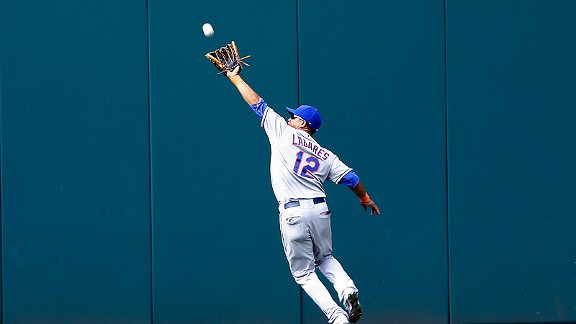 AP Photo/Alex Brandon
Juan Lagares has made tough catches look routine since being recalled by the Mets.
New York Mets rookie outfielder Juan Lagares had to beat out the best of the best to win the Defensive Player of the Month award for August.
Lagares topped two-time 2013 winner Andrelton Simmons and impressive Colorado Rockies rookie Nolan Arenado to take the award this month.
It was well-earned. Lagares led the majors with 12 defensive runs saved in August (one more than Simmons, three more than Arenado). That value came both from his ability to range far outside his position to catch balls and from a throwing arm that has ranked among the best in the sport since his arrival.
Lagares was credited with 22 "Out of Zone" putouts by Baseball Info Solutions in August, with an Out of Zone catch defined as one made in an area in which center fielders turn batted balls into outs less than 50 percent of the time.
Defensive Player of the Month
Lagares had 67 Out of Zone plays in 663 2/3 innings in center field through the end of August. His rate of one Out of Zone catch for every 9.9 innings (basically one per game) played ranks best in the majors at that position.
Good examples of his glove work include these two plays, one in which he came in to rob Jedd Gyorko of the San Diego Padres and this one in which he went all the way back to the fence to steal a hit from Twins outfielder Josh Willingham.
Lagares, a converted infielder, didn't even figure to be the team's top defender coming through their farm system. That honor belonged to recent call-up Matt den Dekker, who made ESPN's Top 10 plays a couple of times before even making the majors. But when den Dekker got hurt this spring, and the Mets needed a lift from their outfield reserves after Collin Cowgill fizzled in an initial tryout, Lagares took advantage of his opportunity.
"His confidence is sky high as far as going to get balls," Mets outfield coach Tom Goodwin told ESPNNewYork.com's Adam Rubin prior to Sunday night's game against the Washington Nationals. "You lose that instant excitement when you first get here, and the jitters, and he doesn't have that anymore. He just goes out there and plays the game. That's the biggest compliment I can give him. He's really matured beyond his years."
Most Defensive Runs Saved
CF in 2013 (through Aug. 31)
Lagares leads the National League and ranks second in the majors in outfield assists with 12, trailing only Kansas City Royals left fielder Alex Gordon. He's become a deterrent to baserunners both due to his positioning (he likes to play shallow) and his instincts (he gets to balls quickly).
"You'll see him get to some balls where they're line drives and he's getting to them on the first hop, instead of two or three hops later," Goodwin said. "His routes are outstanding. His reads are outstanding. And when he comes in, he makes good, strong, accurate throws."
Simmons had what has become a typical Simmons month with his 11 defensive runs saved. He has 39 defensive runs saved and will break the record for most defensive runs saved in a season, which was set by New York Yankees outfielder Brett Gardner with 35 in 2010. Arenado (30 defensive runs saved) and Manny Machado (31) are neck-and-neck for the lead for third basemen.
Also impressive this month were Minnesota Twins second baseman Brian Dozier, who led the majors with 25 "good fielding plays" (think plays that would be Web Gem nominees), and Los Angeles Angels outfielder Mike Trout, who despite the struggles we noted last week had seven defensive runs saved.