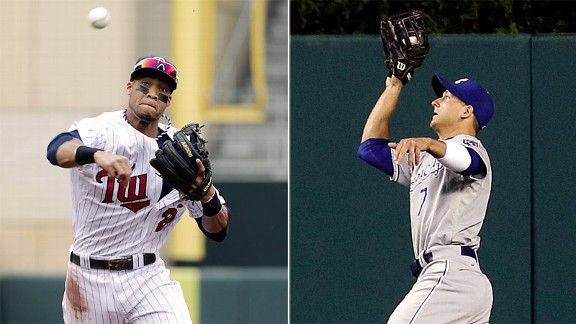 AP Photo
Pedro Florimon and David Lough don't get a lot of press, but they have stellar defensive stats.
We've written frequently about the outstanding defense of Andrelton Simmons, Nolan Arenado and Carlos Gomez this season, but it should be noted that they;re not the only ones who have been terrific with the glove.
You may have read Buster Olney's blog today in which I made a statistical assessment of the clubhouse leaders for Gold Glove Awards. That hooks into something I've been wanting to do for awhile -- take a closer look at nine players having good defensive seasons that you may not have been aware. (Note that all data is entering Thursday).
Infielders
Mike Napoli, Red Sox 1B
Napoli was the most surprising name among the Defensive Runs Saved and UZR leaders. His 10 Runs Saved are most among AL first basemen.
What is RZR?
What is he doing that those stats are rewarding?
It's fairly simple. Napoli doesn't go beyond the basic area he covers to make plays (his rate of out of zone plays per inning ranks in the bottom third among first basemen), but what he can get to, particularly on balls hit near the first-base line, he turns into outs.
Napoli entered Thursday with the best Revised Zone Rating among AL first basemen, though remember that group doesn't include Mark Teixeira, Adrian Gonzalez or a healthy Albert Pujols.
Brian Dozier, Twins 2B
Pedro Florimon, Twins SS
Dozier has handled the move from shortstop to second base with aplomb, netting 11 Defensive Runs Saved in 2013, second-most in the AL (Dustin Pedroia leads with 16).
Defensive Runs Saved
He leads AL second basemen in range factor (plays per game) and is one of those players who passes the eye test too.
Dozier's 83 Good Fielding Plays (think: Web Gem nominees) are only two fewer than the leader at the position, Pedroia (in 177 fewer innings). What's separating Dozier from being as good as Pedroia are the defensive misplays and errors. He has 31, 10 more than Pedroia.
Florimon has shown himself to be adept, particularly at getting to balls in the shortstop-third base hole (which helps, because Dozier covers a lot of ground up the middle). His 14 Defensive Runs Saved rank second-best among shortstops this season, dwarfed by Simmons' major-league leading 39.
Juan Uribe, Dodgers 3B
Like Napoli, this one may merit an eye roll, but the numbers show that Uribe has been good. His 11 Defensive Runs Saved are second-most in the NL and the same as Evan Longoria (in nearly 450 fewer innings). Like Napoli, Uribe gets to balls and doesn't make a lot of mistakes.
Let me show you what I mean: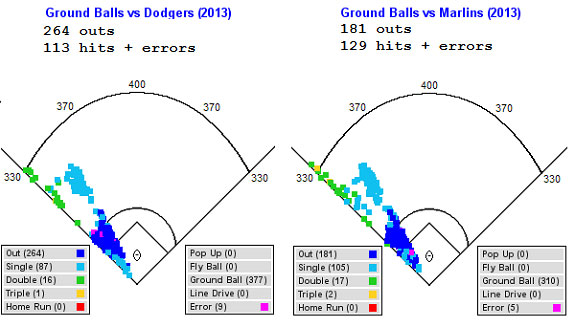 The two images show approximate batted ball locations for ground balls hit to a swath of the field that I think we can all agree are balls that are fielded (or missed) mostly by third basemen.
The image on the left shows how a team that ranks among the best in the majors in out conversion -- the Dodgers -- has fared against those balls. The image on the right shows how a team that ranks among the worst -- the Marlins -- fares against balls hit to that same swath.
The two players making most of those plays for the Dodgers are Uribe and Nick Punto, who has five Runs Saved in limited time at the position.
Uribe's performance is the bigger surprise. The last time he had a season with at least a dozen Defensive Runs Saved was 2004.
Outfielders
David Lough, Royals OF
The inspiration to include Lough came from seeing him crash into the right-field fence to make a catch for his third No. 1 Web Gem in Tuesday's win over the Indians.
#7 RF
Kansas City Royals
2013 STATS
GM

88

DRS17

RNK8th

AST7

GEM4

#1

3
Lough has 17 Defensive Runs Saved in 666 innings and has done his best work getting to balls hit to the deepest parts of the park. His runs saved per inning rate ranks fifth-best among outfielders with at least 500 innings played.
Lough has a near 2-to-1 rate of good fielding plays to defensive misplays and errors in right field based on video review by Baseball Info Solutions. His rate ranks fifth-best among the 21 right fielders with at least 15 good plays this season.
Shane Victorino, Red Sox RF
Victorino has the most Runs Saved of anyone who hasn't been nominated for Defensive Player of the Month this year with 22, the best year of any in his 10-year career.
Victorino has had a good year with his arm (see the chart), but even at age 32, he's shown that he can go into the gap and get the ball. The Red Sox defense has improved considerably from a statistical perspective at getting to balls in the deepest parts of right-center. Victorino has been a key to that.
Most Assists by RF in 2013
As we did for Uribe, we cut the field into a swath, one meant to show the charting (by hand and eye) of balls hit to the deepest parts of right-center that stayed in play at Fenway Park, and looked at the data.
In 2012, the Red Sox turned 16 of those 25 into outs. In 2013, they've turned 22 of 25 into outs. Six would-be doubles and triples (just at Fenway) may not sound like a lot, but it's the sort of thing that can help enhance the defensive value of someone like Victorino.
Chris Denorfia, Padres OF
Denorfia has played three outfield positions and played them solidly, combining for 15 Defensive Runs Saved. He has five Defensive Runs Saved at each of the three outfield positions.
If that holds to the end of the season, he'd be the first player in the 11-season history of Defensive Runs Saved to have at least that many Runs Saved in all three of those spots.
Catchers
Welington Castillo, Cubs C
Castillo's season doesn't look great on paper, particularly the 10 errors, but he ranks second in the National League in runners caught stealing with 26 and has five pickoffs.
Castillo's stats also have gotten a spike from one area that BIS charts that might be hard to recognize -- the ability of a catcher to block pitches in the dirt.
Castillo entered Thursday having blocked 613 pitches in the dirt (without a baserunner advancing) this season, second-most in the majors to Salvador Perez's 622.
That's helped him accumulate a major-league high 17 Defensive Runs Saved at catcher.
Russell Martin, Pirates C
Martin has done more than his share of good things behind the plate for the Pirates. His 15 Defensive Runs Saved are his best total since he netted 18 in 2007.
The two reasons for that are:
Russell Martin vs Yadier Molina
2013 Through Wedneday's Games
(A) The Pirates' ERA is about half-a-run better when he's behind the plate compared to when he isn't.
(B) He's thrown out 28 of 75 of would-be basestealers, compared to only three of 35 by the rest of the team's backstops.
Martin probably won't win a Gold Glove, with Yadier Molina in his way, but his value has been as noteworthy as Molina's on the defensive side this season.
Scott Spratt of Baseball Info Solutions contributed research to this article.