With winter bearing down upon us and two and a half months to go before Opening Day, I've been fiddling with some of our visual tools recently.
And with David Schoenfield writing about the Rangers' roster turnover, I thought I'd look for ones that I found interesting heading into 2014:
Yu Darvish: Strikeout machine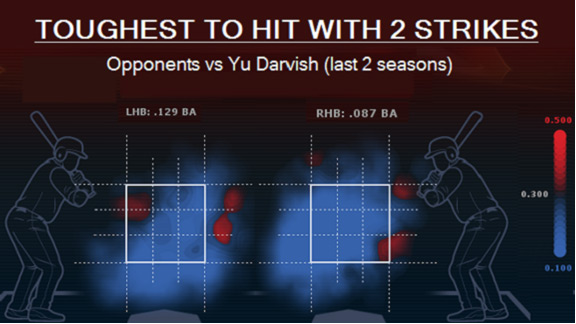 Yu Darvish heat maps are more entertaining than most pitchers because he's so good at so many things. One of those is finishing hitters off.
Over the past two seasons, opponents have a .111 AVG/.154 OBP/.192 SLG slash line against him in two-strike situations. Those slash lines rank first, second and first among pitchers with at least 200 innings in that span. And how's this for consistency: Opponents hit .110 against him with two strikes in 2012 and .112 against him with two strikes in 2013.
Prince: Postseason pauper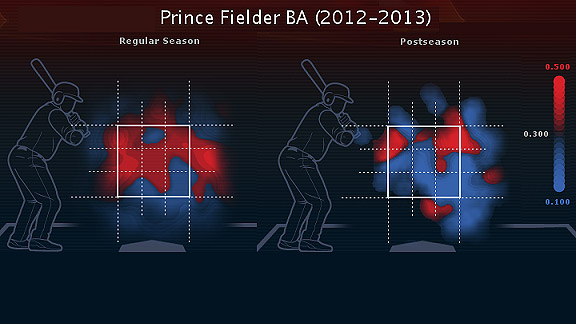 Playing 81 games a year in Texas instead of Detroit should be a boon to Prince Fielder's offensive numbers, even as he starts to get a little older.
But if the Rangers are as good as they think they are, one hurdle they'll have to overcome will be Fielder's poor postseason performance. Over the past two postseasons, Fielder is hitting .196 with a .506 OPS and one home run in 92 at-bats. The batting average is nearly 100 points lower than his regular-season numbers. The slugging percentage is nearly 400 points lower.
Fielder may have been trying to take on too much of the Tigers' offensive burden himself. In those two postseasons, his "chase rate" (how often he swung at bad pitches) was nearly 40 percent, well above his 27 percent regular-season rate.
Choo and Profar: Left behind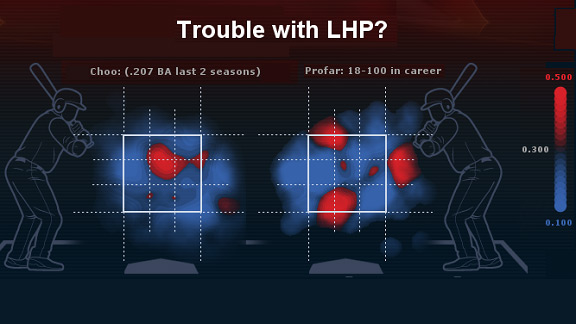 The Rangers have two significant players in their lineup who have issues with left-handed pitching.
Shin-Soo Choo's struggles have been a past discussion topic. Though he gets on base at a reasonable rate, his power against lefties is virtually nonexistent. Signed this offseason as a free agent, Choo played for the Reds in 2013 and didn't hit a homer against a lefty until the wild-card playoff against the Pittsburgh Pirates.
Profar is still finding his way on the offensive end, and that's particularly true against left-handed pitching. He has only one home run and four extra base-hits in the 100 at-bats he's had against southpaws in his career.
Closing Time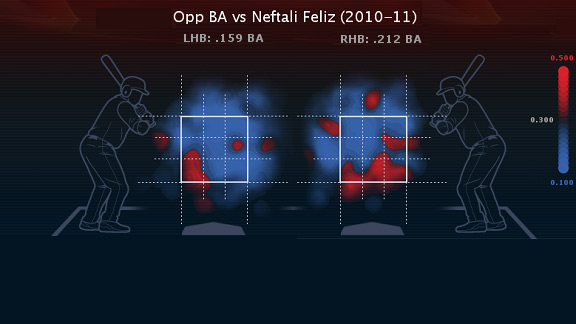 The Rangers are putting Neftali Feliz back in the bullpen in the hopes that he can return to the form he showed in 2010 and 2011. Feliz was one of the game's dominant relievers those two seasons.
Feliz dominated with a fastball that netted misses on 26 percent of swings against it, which rated in the top 5 percent of major league pitchers. Back then, he was throwing 96 mph; he averaged a hair under 94 mph in his September return. We'll see if the winter off helped restore some of that nasty velocity.