Jerry Crasnick took a look at the state of the Philadelphia Phillies, noting a number of issues that general manager Ruben Amaro Jr. faces heading into the 2014 season.
We scoured our data to put some of these issues into a visual form. Here are the three that struck us as most interesting:
Ryan Howard: lost versus lefties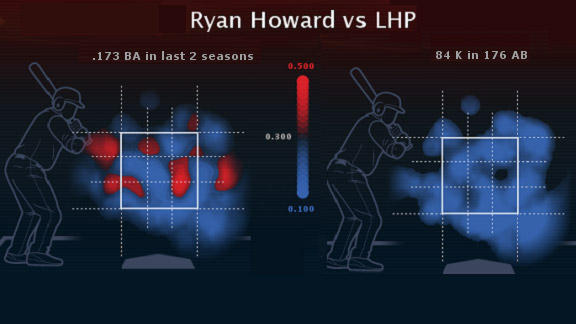 Ryan Howard has played the equivalent of about a full season -- 151 games -- over the past two years, hitting .244 with 25 home runs in that span.
Those numbers are being dragged down by his performance against left-handed pitching. You can see those struggles in the image -- a .173 batting average (.080 with two strikes), 84 strikeouts and eight walks in 179 at-bats.
How bad has it gotten?
Howard's .575 OPS against left-handed pitching over the past two seasons is the same as Jose Molina's.
This is something that needs to right itself, or else the Phillies might have to turn their $25 million man into a platoon player.
Jimmy Rollins' decline in value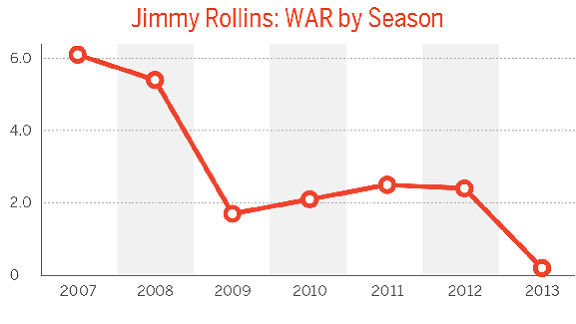 The new metrics, the ones that Amaro has been hesitant to embrace, are not kind to shortstop Jimmy Rollins.
Rollins averaged five wins above replacement (WAR) a season from age 25 to age 29. But the decline has been a steep one once Rollins entered his 30s. He's averaged 1.8 WAR over the past five seasons, bottoming out at 0.2 in 2013.
Rollins will make $11 million this season and has an $11 million club option that vests if he stays healthy and has 434 plate appearances in 2014. The Phillies appear to be putting that money toward a player who is not helping them win.
Catching the deep ball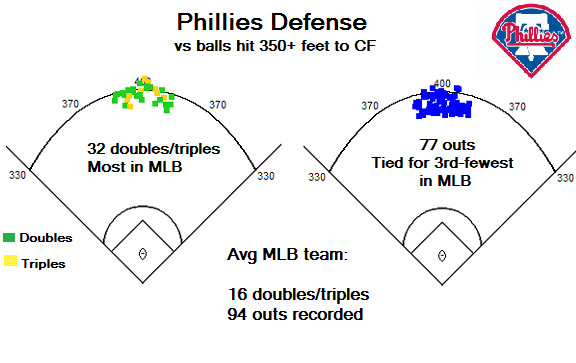 The Phillies' outfield defense had all sorts of trouble catching batted balls last season. Where they really failed to meet expectations was in center field, a position that was supposed to be filled more than ably by Ben Revere, who came in trade with a strong reputation for being able to chase down deep flies.
But Revere stumbled a bit more than expected, as did those who filled in for him when he got hurt. We're not sure if the issue was positioning, skill or just bad luck. (If it was positioning, the Phillies might do well to do what the Pirates did with Andrew McCutchen a few years ago and play deeper in center field.)
Whatever it is, the Phillies would be well served to try to fix it. It's one of their few problems that is potentially fixable without any financial consequences.